After decades of development, HCM City, Vietnam's biggest growth engine, has found out that it has lagged behind not only regional metropolises but also some other big cities in Vietnam when it comes to the pace of growth.
Bringing into full play its potential of marine economy and sea-based development is therefore crucial to the city's future, participants in a recent workshop have pointed out.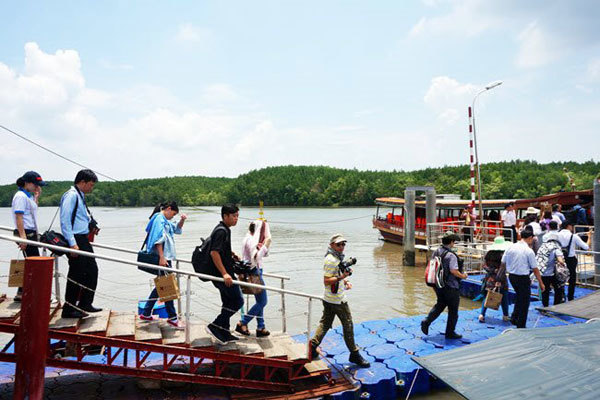 In the entire southern key economic zone, Can Gio is the only access point to international waters. 
Coming from Hanoi, Assoc. Prof. Luu The Anh from the Vietnam National University Hanoi, made it clear to the audience, who are mostly HCMC's officials, that the leading position of their city in Vietnam has been increasingly challenged over the past decade. A participant in the workshop entitled "HCMC – A Marine Economic Vision That Connects a Chain of International Metropolises" held last week, Mr. Anh said other cities in Vietnam—Hanoi, Danang, Binh Duong and Dong Nai, to name but a few—have fared well ahead.
For example, he said, Hanoi has over the past two decades posted an average growth rate of 9.5%, one percentage point higher than that of HCMC. The result is, Mr. Anh was quoted by Tuoi Tre as saying, Hanoi's GDP now accounted for 13.6% of the national economy, up from only 8.2% 20 years ago, which has remarkably bridged the gap between it and the southern city.
Mr. Anh added that although some other localities, such as Dong Nai, Binh Duong, Haiphong, Quang Ninh, Vinh Phuc and Thai Nguyen are not now formidable rivals to HCMC, they are in fact comparable to the city concerning some aspects in which they fare the best.
Taking a broader view, one may realize that in East Asia, HCMC still ranks at the bottom of a list of 13 regional cities which have the equivalent population and surface area when a comparison is made of two criteria, competitiveness and living quality. Given its chronic problems which have become ever more serious hindering the overall growth, the decline of HCMC in the hierarchy is expected to get worse.
Experts have argued that during the economic development process, HCMC has over the years ignored its potential for marine economy. According to Tuoi Tre, the city's waterway networks and port systems associated with related services which have existed for centuries have relied entirely only on the Saigon-Dong Nai River and the Soai Rap River to have access to the sea. A coastal city, HCMC has yet to have a long road system along the coast. Meanwhile, its coastal district of Can Gio has been largely let dormant.
Participants agreed that HCMC has a position with many economic advantages in Southeast Asia. As the center point of and the gateway to the southern key economic zone, HCMC has the potential to become a financial center in the region in one or two decades. This policy has been forwarded to the central Government and received much support. However, special mechanisms should be granted to the city so that it can materialize the opportunities instead of missing them as it has done in the past two decades.
According to Prof. Dang Hung Vo, former deputy minister of Natural Resources and Environment, HCMC has to identify the key issues for its sea-based economic development. Considering the city's geographical position, the coastal district of Can Gio is the only possible way to sea-based economic development. Mr. Vo argued that in the near future, the HCMC authorities should be absolutely consistent with the development of sea ports and maritime logistics associated with a chain of coastal cities in Can Gio. In other words, the city should shift from a land-based economy to an ocean-based one.
Assoc. Prof. Luu The Anh maintained that the 21st century is one of the sea and ocean. In line with this context, HCMC has great potential for development propelled by its port systems, among the country's biggest, such as Cat Lai, Cai Mep - Thi Vai, Hiep Phuoc – Long Thanh.
In its article reporting the above workshop, Thanh Nien newspaper cited another speaker, Architect Nguyen Xuan Anh, who recalled a meeting on May 30, 2020 where the then Prime Minister Nguyen Xuan Phuc, now State President, met leaders of the provinces in the southern key economic zone. According to Mr. Phuc, HCMC and the seven other members of the zone would be the "octagonal diamond," that would reach the finish line at least 10 years ahead of the whole country on its path to prosperity by 2035. However, Mr. Anh warned that one of the sides of that "octagonal diamond" mentioned by Mr. Phuc is still missing. That is the side facing the sea identified by the three locations—Go Cong Dong (Tien Giang Province), Can Gio (HCMC) and Vung Tau (Ba Ria-Vung Tau Province). 
To go to the sea, Nguyen Xuan Anh said it is essential to come closer to international maritime routes. This linkage should be realized not via an overland road system but a chain of coastal cities. The advantage to be gained not only benefits the southern key economic zone but also gives rise to a new route to the Mekong Delta.
This is not a new idea. In fact, almost two decades ago, in 2002, the late Prime Minister Vo Van Kiet once analyzed the benefits of the development of Can Gio as an "urban center for relaxation, entertainment and tourism." The Prime Minister insisted that such an urban center should be prominent to not only Vietnam but also Southeast Asia. According to Mr. Kiet, protecting Can Gio biosphere did not mean ignoring other potentials of Can Gio. Particularly, the vast southern key economic zone has only one access point to international waters, which is Can Gio – Ganh Rai Bay.
Thanh Nien reported that in 2018, an international competition on Can Gio's planning was held. Nikken Sekkei won the first prize with three strategies for developing Can Gio in which the regional economic development model includes both the administrative management and the role of development management. The State will manage and regulate public resources and create mechanisms, policies and favorable conditions for other resources to develop. Meanwhile, the private sector—whose professionalism in project development, its dynamism in detecting and following trends, and its marketing ability and responsiveness to market factors are superior—should give more strengths and possibility of success to the project.
SGT

On October 22, 2018, Party General Secretary and State President Nguyen Phu Trong signed a resolution on the strategy for the sustainable development of Vietnam's marine economy to 2030 and vision to 2045, known as Resolution No 36.

Da Nang City is aiming for the sea-based economy along with tourism and hi-tech industry to drive its growth over the next 25 years.