Low-income earners have been the most hard-hit by the recent energy price hikes.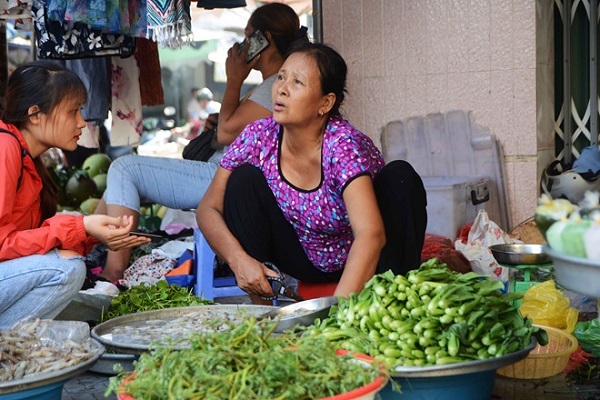 Low-income earners have been the most hard-hit by the recent energy price hikes.
Strong rises in the costs of fuel and electricity have driven up prices of food and foodstuffs, essential commodities and transport services, and are making consumers struggle to meet their ends meet and businesses to survive.
Two fuel price hikes in less than 30 days made one liter of gasoline VND3,500 (US$0.15) more expensive and have sparked concerns among the consumers, especially the low-income earners who will certainly see their living standards fall, according to Thanh Nien newspaper.

Pham Thi My, 72, who is living in Ho Chi Minh City, the southern economic hub, complained that she spent VND250,000 (USD$11) per day on food for all family members, up 20% because the prices of veggies also increased due to higher transportation cost.
As gasoline and electricity increased, My's family had to spend more money on daily spending and was expected to cut down some unnecessary expenses in the near future.
Tran Thi Thao, 39, has to cover her family's living costs with a net income of VND5 million (USD$216), while the cost of living and her two children's tuition fees are high.
She found it hard to save money and has to cut down on spending as the prices climbed.
"Renting eats up VND1.2 million (USD$50.6) of our budget, power and water expenses amount to VND 700,000 (USD$29.5) monthly. However, due to the higher prices, we have to spend a part of our savings, which is reserved to cover possible illness treatment," Thao said.
Some people decided to walk instead of commuting by motorbikes in order to save money for gasoline, otherwise they have to dig into their pockets.
Others said that they limited the use of air-conditioning, reduced watching TV, and avoided to use electric devices as much as possible.
Meanwhile, Le Thi Kim Hoa, 63, a low-income worker, saved her wallet by begging for foods in the market.
She lives with a sister in a rented department, which costs her VND1.4 million (USD$59) monthly including the water and power bills. However, she had to pay VND200,000 (USD$8,4) more on renting since consumer prices go up.
"I earn the living by selling lottery tickets. My mom died a few days ago and my sister suffers from mental illness. The situation has gone worse as I have to pay more money for everything. Now everything becomes less affordable then I ought to beg for food to save money," Hoa shared her story.
Higher operation costs
Director of Lam Vinh Transportation Company Lam Dai Vinh forecast that the container shipping prices would increase by 15-20% and the fuel cost might account for 40% of transport costs.
The oil price from the beginning of the year has soared sharply coupled with the increase of electricity price drove up prices of tires and labor which, in turn, affect enterprises.
"Over the past two years, transportation businesses earned no profit. Recently, many enterprises stopped operating and sold vehicles. Others raised the shipping prices due to the scarcity of transportations as well as the ongoing increase of input costs," Vinh said.
He also stressed that the businesses don't complain about the high prices of oil and gasoline, which are in accordance with the international market and should be accepted.
However, the problem is the illogical manner of managing gasoline prices in Vietnam.
When the world price of petrol and oil increased, the state used the stabilization fund to restrain it.
In addition, the formula to calculate fuel prices is not transparent, businesses cannot foresee the increase or decrease in fuel prices when signing contracts with customers. Hanoitimes