Petrol price hikes in April were putting pressure on prices but the consumer price index (CPI) was still under the control, according to the General Statistics Office (GSO).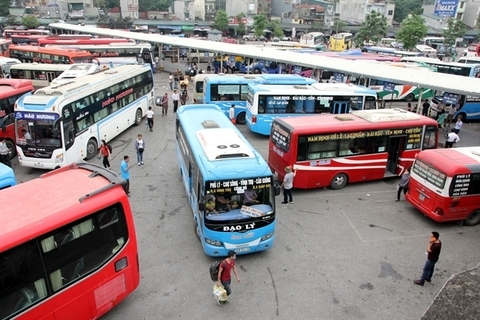 Giap Bat Bus Station. Recent petrol price hikes were putting pressure on consumer prices.
Petrol prices rose twice in April, adding altogether VND2,500 per litre (US$0.11), equivalent to 14 per cent, to VND19,703 for petrol E5 RON92 and VND21,235 for petrol RON 95.
Coupled with electricity price increases at the end of March, it was likely to affect the market, which could push up CPI by 0.41 per cent in April, GSO estimated.
According to Nguyen Van Sua, Deputy Chairman of the Viet Nam Steel Association, recent increases in petrol and power prices were certainly causing difficulties in consumption and production.
For energy-intensive industries like steel, production costs were increasing considerably, Sua said.
Nguyen Van Ket, director of SKD Viet Nam mechanics company, said that although petrol and power prices hikes pushed up production costs, increasing selling prices to make up for it would not be easy because this would undermine competitiveness.
Transportation was the sector largely affected by the petrol price hikes because fuel made up around 40 per cent of costs. Adjusting fees or not remained a hard choice for transportation companies.
Nguyen Van Quyen, Chairman of the Viet Nam Automobile Transport Association, said that transportation companies were keeping a close watch on the fuel prices and calculating its impacts for the decision to adjust fees.
Nguyen Anh Quan, director of G7 Taxi company, said the increase in fuel prices had not affected taxi fares, which had remained stable for the last three years.
Quan said that his firm was considering adjusting taxi fares but confirmed that the rise would be very slight to remain competitive.
Meanwhile, Nguyen Cong Hung, chairman of the Ha Noi Taxi Association, said the association encouraged traditional taxi companies to reduce their operations costs, keep fares stable and enhance service quality to preserve their market share and compete with ride-hailing services platforms like Grab.
President of the Hai Phong Road Freight Transport Association Le Van Tien said transport firms would not immediately raise their prices as they had to abide by fares stated in contracts signed with customers. Thus, transportation prices were unlikely to change significantly.
Still, if petrol prices continued to increase, transportation fee hikes would be unavoidable, Dinh Van Sau, chairman of Taxi Huong Lua said.
GSO General Director Nguyen Bich Lam said in the long term, the CPI of the whole year was under the control of the Government, adding that a close watch was kept on price fluctuations and market development.
According to Dang Cong Khoi, Deputy Director of the Ministry of Finance's Price Management Department, oil and petrol prices in the global market were trending upwards.
Khoi said that three scenarios of the impacts of fuel price increases on CPI were raised.
In the first scenario, if the average global oil price rose by 5 per cent, CPI would increase 3.4 per cent in 2018.
In the scenario of 10 per cent increase in global oil price, CPI in 2019 would rise 3.7 per cent.
If global oil price rose by 15 per cent, CPI in 2019 would increase 3.8-3.9 per cent.
GSO's statistics showed that CPI rose 2.63 per cent in the first quarter of this year over the same period last year.
The Government set a target for inflation at below 4 per cent in 2019. — VNS