Digitalisation is promising to become an optimal tool for construction sites that is observed and managed by digital technologies in order to increase systemisation and efficiency.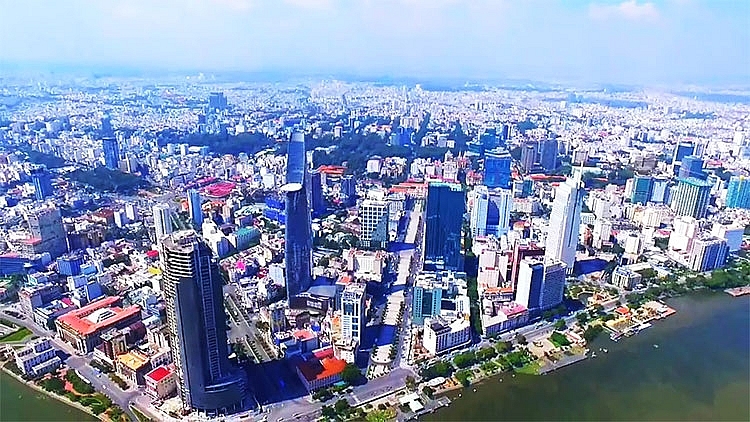 Future of construction brainstormed by experts (illustration photo)
Opening the Large Infrastructure Project Conference 2019 last week in Ho Chi Minh City, CEO Siam City Cement Group Aidan John Lynam pointed out that mega cities and rapid urbanisation are creating pressures on infrastructure, housing, services, and the environment to meet the living requirements of current and future generations.
The conference's theme this year, on rethinking construction, aimed to introduce the latest innovations and technologies of leading global companies to ­overcome the barriers of traditional construction methods, save resources, and move towards sustainable development.
For the second time, the event was organised by INSEE Vietnam, an affiliate of Jardines, and in partnership with engineering and chemicals giant Sika and construction business Doka.
Increasing population density, another prominent topic at the conference, is also adding pressure to ageing infrastructure and is impacting the environment. Vietnam has 800 urban areas – the rate of urbanisation increased from nearly 24 per cent in 1999 to 37 per cent in 2017. The rate is expected to climb by 50 per cent by 2025.
According to INSEE, the demand for construction materials is increasing, but will not be sustainable as it depends too much on the exploitation of new resources. Moreover, the majority of exploitation is carried out using outdated technologies and techniques, thus wasting resources and causing environmental pollution.
As a result, the reduction of the use of materials produced from new resources, the promotion of sustainable materials that use less energy, and the reduction of construction waste are necessary goals for Vietnam on the path towards sustainable development.
Nirukt Sapru, Vietnam CEO and head of ASEAN and South Asia Cluster Markets at Standard Chartered, said that there are significant infrastructure investment opportunities in Vietnam in which "water, energy, transportation, and digital infrastructure are key sectors that are immediate priorities."
INSEE Vietnam is attempting to contribute to the country's ­national development by ­continuously providing ­breakthrough solutions to ­customers. The cement
manufacturer is committed to sustainable development throughout its value chain, reflected in the brand philosophy of "building for life".
The group has pursued a sustainable development strategy since its establishment in Vietnam nearly a quarter of a century ago, and is utilising advanced techniques to produce environmentally-friendly cement and concrete.
One of the groundbreaking initiatives is to reduce the clinker factor by using different materials such as pozzolana, limestone, and steel slag, as well as alternative fuels such as biogas or energy derived from industrial waste.
PR manager for Doka Group, Michael Fuker said, "Being more efficient, more productive, and working at ever-increasing speeds with no loss of precision are the challenges that construction companies face today. At the same time, planning and execution are becoming increasingly complex."
To address these challenges, the construction industry is progressively integrating more digital solutions with the declared goal of implementing lean construction. "The ­nucleus, where all the construction data is stored, is building information modelling (BIM)," Fuker said. "New digital solutions designed to boost the industry's profitability on the basis of BIM are gradually emerging on the market. Smart tools ­developed by Doka in co-operation with its customers ­illustrate what this can look like in practice."
The Large Infrastructure Project Conference set out to address issues surrounding the construction sites of the ­future, which are automated and digitalised and where ­exchange of information is logged via collaboration platforms. In real time, site managers, financiers, customers, and suppliers will be able to communicate seamlessly and comprehensibly with each other.
Highlights of the event this year included sessions on strategy for development and management of smart cities in Vietnam; the future of concrete for sustainable cities; building digital twins as the next step of BIM; offshore wind energy tech solutions and supply chain opportunities; innovation in concrete and 3D printing; and digital solutions for upbeat construction.
Bui Hung - Director, Building Tech Siemems Vietnam
We have heard a lot about smart cities, smart infrastructure and of course smart buildings are one part of smart cities. It is an inevitable trend in the future.
We have been deeply ­involved in the digital transformation for many years now – for example, Vingroup's automobile manufacturing arm VinFast applies digital technologies from Siemens and other manufacturers.
We wish to participate in the digital transformation of the construction industry due to the huge market demand. The global smart building market records an annual ­average growth rate of 60 per cent and will reach $75 ­billion in the next two years. Vietnam currently has eight billion devices that could be connected, much more than in other markets.
The ­construction industry cannot be left out of the trend of ­digital innovation.
Hoang Duy Kien - Deputy director ARUP Vietnam
With a digital twin, we can help clients ­predict traffic patterns, ­energy usage, building stresses, fire risks, and other resource and risk profiles. A digital twin is essentially a digital representation of a real-world entity – an engine, a bridge, a rail network, even a city – aimed at ­making the curation of that entity safer and more ­efficient.
The digital twin enables organisations to make ­informed decisions about the design, management, and performance of their assets, helping them to be more ­sustainable and more resilient to change. The digital twin concept offers great potential value for organisations in the built environment. The widespread use of digital twins holds the promise to increase operational efficiency, allow resource optimisation, ­improve asset management, deliver cost savings, and ­improve productivity and safety.
Liu Jingwei - Head, Product and Growth Initiatives, Tectus Dreamlab
Tectus has 17 years of experience in doing business in technology on construction, real estate, and infrastructure.
Every year, Vietnam needs around $25 billion to meet the demand for ­infrastructure system development. We also have to ­harmonise infrastructure development and protecting the environment. It is important to choose materials which can be recycled and cut costs.
It is necessary to have ideal solutions for infrastructure system management. We at Tectus are developing ­digital foundations, using sensors and ­advanced technology, and offering software to analyse figures and database on iPads, iPhones, and PCs.
We also offer digital technologies to analyse concrete, and maximise management of construction, in combination with invoice ­issuance and setting up of reports. VIR
Phuong Thu

Vietnam is now a magnet for overseas financiers wishing to implement infrastructure initiatives before transferring them to the state. 
The Customs Bureau of HCM City has proposed that city authorities collect infrastructure fees at seaports to increase revenue for the city.