Export target of US$40 billion of garment and textile industry this year is on the verge of failing to achieve due to several difficulties, such as a shortage of orders and high dependence on imported materials.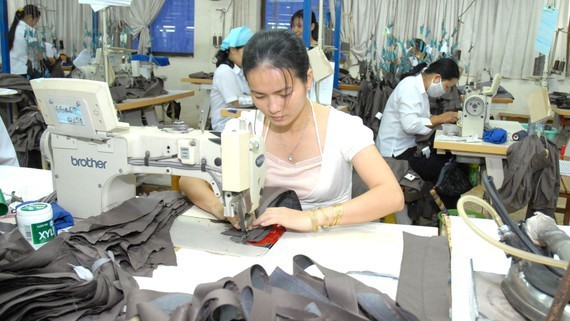 Workers make suit jackets for export.

According to the Vietnam Textile and Apparel Association (Vitas), garment and textile industry has been facing several difficulties and challenges. Currently, competition for orders between domestic and foreign direct investment enterprises has become more and more cut-throat. Many enterprises have been dealing with scarcity of orders, some even had to close down and be under threat of bankruptcy. 
The reasons for this situation were that most orders were divided into small orders; clients were neglect in placing long-term orders; especially, clients lowered prices, causing enterprises to have low profits. Orders tend to move to countries with preferential tax treatment, such as Bangladesh and Cambodia, instead of moving to Vietnam like before.
Besides, the advantage of cheap labor no longer exists when many other countries have labor costs that are half of that of Vietnam's garment and textile industry. In order to attract orders, those countries have applied various policies to support their garment and textile enterprises, including reducing duties, raising the risk of losing orders of Vietnamese enterprises higher and higher. In addition, garment and textile industry has been under pressure about supply when it has to spend higher expenses to buy fabric from China while the pressure to lower the price of export orders to increase competitiveness is also great.
Vietnam's garment and textile industry has been gradually losing its advantage in labor cost compared to some countries. Moreover, investment and application of science and technology in garment and textile industry is still limited, weakening competitiveness, said economic expert Tran Minh Ngoc from the Ho Chi Minh City University of Industry.
Meanwhile, garment and textile products have not taken advantage of opportunities of the Comprehensive and Progressive Agreement for Trans-Pacific Partnership (CPTPP). Until now, after becoming effective for ten months, issuance of the certification of origin of Vietnam is still depending on relevant authorities while member countries in the CPTPP have allowed enterprises to certify by themselves.
Besides, the yarn forward rule of origin, which means that all products in a garment from the yarn stage forward must be made in one of the countries that is party to the agreement, is a great challenge as garment and textile enterprises have been importing more than 60 percent of materials from countries outside the CPTPP. Garment and textile industry will hardly make use of opportunities and even face difficulties with the CPTPP as if it fails to ensure rules of origin, Vietnamese products will not receive preferential tariffs when exporting.
Many garment and textile enterprises considered the CPTPP and the EU-Vietnam Free Trade Agreement as opportunities to promote export, expand market and receive preferential tariffs. However, in order to take advantage of these opportunities, the Government needs to resolve those aforesaid entanglements to create favorable conditions for the development of garment and textile industry as well as solve difficulties in customs clearance, import-export and tax refund procedures.
Moreover, the Government should have policies to help enterprises to reduce production costs and policy to allow investment in weaving and dyeing stages. In recent years, in order to attract orders, rivals of Vietnamese garment and textile industry have all applied policies to support domestic garment and textile enterprises, including cutting corporate income tax and import tariffs of materials.
Vice chairman cum general secretary of Vitas Truong Van Cam said that amid fierce competition, achieving a growth of about 9 percent is great effort of garment and textile industry. In order to reach export target of $40 billion this year, from now to the end of this year, enterprises must zealously seek for partners, expand export market, change production and business method that is in line with the tendency and meet the increasing demand of consumers.
At the same time, they should also focus on orders that require high techniques and make the most out of local skilled workforce as well as meet fast and punctual delivery time and ensure quality as required by clients. Garment and textile enterprises should cooperate with each other through affiliating and supporting programs of the association in order to meet the rules of origin in accordance with commitments in free trade agreements. Small enterprises can establish a production chain to meet large orders in terms of quantity, quality and delivery time to build long-term prestige with partners.
The association will continue to accompany enterprises in reporting difficulties and proposing solutions for enterprises when implementing legal procedures. At the same time, it will run several trade promotion programs, conferences, trainings in certificate of origin and sustainable development program of the industry. The Government should carry out from macro to micro solutions to assist most effectively the process of manufacturing and exporting garment and textile products, the representative of Vitas said. SGGP
Thuy Doan

Adopting advanced technology and improving the localisation ratio of materials and accessories are textile and garment enterprises' best chance.

Thirty-eight Vietnam's textile and garment companies recently attended 'Global Sources Fashion and Global Sources Lifestyle', the biggest fashion exhibition in Hong Kong, to seek buyers.