Nguyen Duc Thuy, or Boss Thuy, has stock assets worth VND17.3 trillion. However, his real assets are believed to be higher.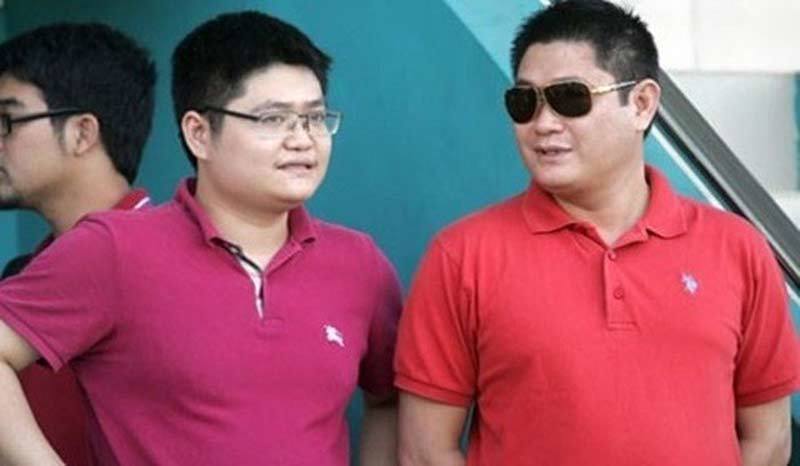 Nguyen Duc Thuy (right)
The price of TDH shares of Thaiholdings increased sharply in the last few trading sessions, exceeding the VND200,000 per share threshold. Since early December 2020, its value has increased by 10 times, from VND20,000 per share to VND201,000.
With 86 million TDH, Thuy now has stock assets of VND17.3 trillion. However, the figure could be higher if counting other properties.
Thuy was believed to buy a large amount of LienViet Post Bank (LPB) recently. Prior to that, Thuy attended the gong beating ceremony on the day LienViet Post Bank entered the bourse, together with the bank's key leaders.
If only considering the stock assets from TDH, Thuy would be listed as the sixth richest stock billionaire, just after the billionaires listed by Forbes, namely Pham Nhat Vuong, president of Vingroup; Tran Dinh Long, president of Hoa Phat Group; Nguyen Thi Phuong Thao, CEO of Vietjet Air; Ho Hung Anh, president of Techcombank; and Nguyen Dang Quang, president of Masan.
Thuy is even believed to be richer than the 'real estate tycoon' in the south Bui Thanh Nhon, president of Novaland, and Pham Thu Huong, the wife of Vuong.
There have been some changes in the list of stock billionaires in Vietnam recently. Long of Hoa Phat Group has become the second richest billionaire, just after Vuong. Meanwhile, in Forbes ranking, Long is in the third position. The first and second positions still belong to Vuong of VIngroup and Thao of Vietjet Air.
Thuy is now the chair of the board of directors of Thaigroup and the biggest shareholder of Thaiholdings. He once was on the post of Thaiholdings' chair, but resigned in February and is now the founder of Thaigroup.
Thaiholdings' capitalization value has soared to VND70.4 trillion, or $3.5 billion.
In late 2020, Thaiholdings fixed the list of shareholders and issued 296.1 million shares to existing shareholders at the price of VND10,000 per share in a plan to mobilize VND2.961 trillion.
After the issuance, Thaiholdings increased its charter capital from VND539 billion to VND3.5 trillion.
Thaiholdings will use VND2.954 trillion to buy 81 percent of shares of Thaigroup which was the holding company of Thaiholdings.
Thaiholdings board of directors approved the borrowing, L/C opening and the use of services to be provided by SHB, the bank owned by Do Quang Hien, or Boss Hien. The credit limit is VND700 billion and the time limit is 12 months. The asset mortgaged for the loan is the properties at No 210 Tran Quang Khai Street and 17 Tong Dan Street, which are belonging to Ton Dan Ha Noi JSC. 
V. Ha

A stock market is one of the "thermometers" of a country's economy, and last year Vietnam's market saw many ups and downs but still made historic breakthroughs, creating a solid foundation for 2021.

After a surge in new community COVID-19 cases which were reported last week, the State Securities Commission of Vietnam (SSC) ordered industrial units to reenact measures to stabilise market activities.