Deputy Prime Minister Vuong Dinh Hue has asked for tight control of corporate bond issuance so the finance and equity sectors operate properly and safely.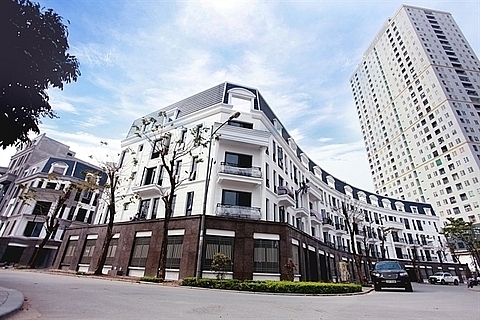 A corner of the Van Phu Victoria real estate project, which is built by Van Phu-Invest JSC. The company is among property developers that want to raise capital from bond issuance with annual yield rate of 12 per cent. - Photo ndh.vn
A number of companies, especially property developers, have offered corporate bonds with high volumes and yield rates (12-14 per cent per annum), which puts pressure on the financial-banking system, deputy PM Hue told a meeting on innovation and development of business this week.
According to the State Securities Commission vice chairman Pham Hong Son, total corporate bond issuance reached VND60 trillion (US$2.58 billion) in the first six months of the year. Most of the bond-issuing deals were private, not public.
Banks topped corporate bond issuers with a total value of VND18.2 trillion. Second place was real estate and construction firms with total value of VND16 trillion.
Banks' bonds have per-annum yield rates of 6.3-7.3 per cent. The figure for real estate and construction firms ranges from 10-14.5 per cent.
The move comes after the State Bank of Vietnam (SBV) on January 1, 2019 tightened bank loans for the real estate sector, which forces companies to look for other ways to raise capital for their projects, especially through the stock and bond markets.
Banks look for investment from bondholders as they are considered alternative capital resources to improve their financial capability. But similar action by real estate and construction firms is often seen as a response to the SBV's credit tightening policy.
A recent report by MB Securities Co (MBS) showed the property firm with the highest corporate bond yield rate is Phat Dat Real Estate Development Joint Stock Company.
The firm made three bond issuances in the first half of the year with yield rates ranging from 10.5-14.5 per cent per annum.
Other real estate firms also issued bonds at per-annum yield rate of 12 per cent such as Van Phu-Invest JSC, Khang Dien House Trading and Investment JSC, and Dat Xanh Group.
The SBV regulated in early 2019 that banks must cut the percentage of short-term capital for medium- and long-term lending to 40 per cent from 45 per cent. The percentage will be reduced to below 30 per cent in following years.
Though the corporate bond market really needs to develop in order to reduce the dependence of the economy on commercial banks, corporate bond issuance must be transparent and secure.
High yield rates for real estate firms' corporate bonds are something that must be closely watched as they may have impact on the Government's macroeconomic policies.
Bondholders should carefully analyse the performance and financial capability of real estate firms to avoid risky bonds.
Therefore, Hue requested the Ministry of Finance, the State Securities Commission and the State Bank of Vietnam to supervise the corporate bond market carefully and create a development plan for the corporate bond market, which must consist of lending limits, conditions and ratings. VNA