Automobile importers in Vietnam will no longer have to obtain a Vehicle Type Approval (VTA) certificate from authorities in exporting countries, making it easier for them to import cars into the country.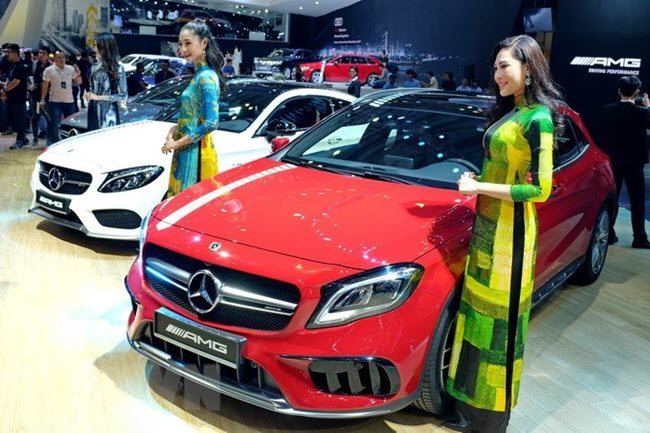 Cars on display at an international auto show taking place in Vietnam in 2017. Automobile importers in the country will no longer have to obtain a VTA certificate - PHOTO: VNA
The Government on February 5 issued Decree 17/2020 on adjustments and supplements to Government Decree 116/2017 stipulating regulations on car manufacture, assembly, imports and warranty services.
Many car importers in the country had struggled to obtain the VTA certificate by end-2017, leaving the local automobile import market in limbo. The Thai and Indonesian governments also had to grapple with the issue as they did not want to lose automobile export revenues earned from the Vietnamese market. The two countries earlier had not granted this kind of certificate.
Aside from eliminating the VTA requirement, Decree 17 has relaxed its rules on clearance procedures for imported cars.
In particular, the model of each type of car will have to undergo emissions, quality and technical safety tests at least every three years.
Earlier, under Decree 116, one sample would be chosen from each batch of imported cars for the tests. The inspection was then repeated for the following shipments, even with the same car models.
Overall, the new rules in Decree 17 will help reduce the amount of time needed for the clearance process and lower the costs for inspections, testing and storage for automobile importers.
According to a representative of a German automobile operator in Vietnam, the removal of the VTA requirement and other rules in Decree 17 did not leave any major impact on their business but helped reduce their clearance time.
Besides this, another rule in the new decree stipulates that automobile importers will have their import business licenses revoked or suspended for six months if they are found importing cars with GPS maps that violate Vietnam's sovereignty. After six months, the firms must show they have addressed these violations and carry out the required procedures to apply for new licenses.
Last year, some models of cars imported from China to Vietnam were discovered with GPS maps featuring the illegal nine-dash line infringing on Vietnam's sovereignty, sparking public concern. The new rule is expected to act as a deterrent to others and prevent repeat occurrences of this violation. SGT

Textile stocks have been on an temporary upswing thanks to the recent ratification of the EVFTA but textile enterprises still face difficulties due to heavy dependence on imported raw materials and reduced demand worldwide.  

The automobile market is expected to boom this year as the Government mulls a number of favourable policies to help reduce costs, improve demand and increase output.