To maintain supply chains, Ministry of Agriculture and Rural Development (MARD) wants to set up 'buffer zones' to gather farm produce and build 'green passages' and 'green zones' for farm produce distribution.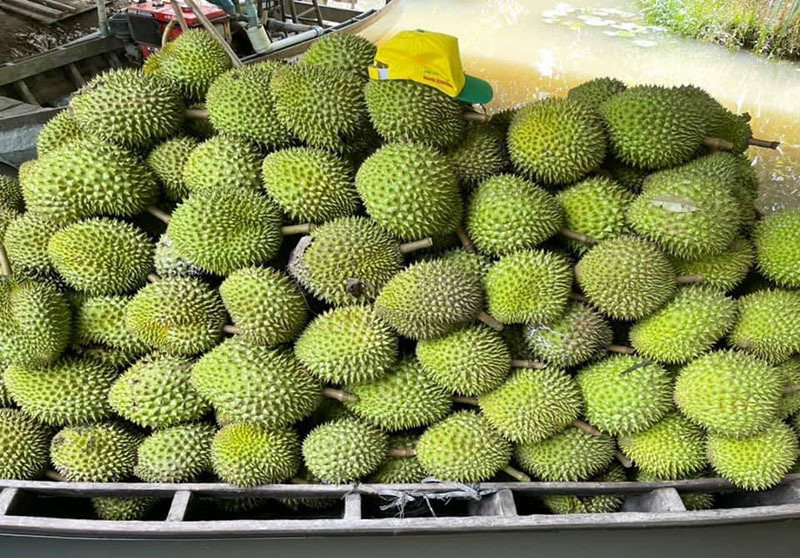 The solution was proposed in a report to the Ministry of Planning and Investment (MPI) about key tasks and solutions in H2.
The pandemic developments remain complicated, adversely affecting the production of agricultural, forestry and fisheries, especially in lockdown areas. The distribution of materials for production is facing serious difficulties.
Meanwhile, southern provinces have begun the harvest season with expected output of 1.1 million tons. The ministry has warned of an oversupply and farm produce congestion in production areas, and shortage in consuming areas, especially lockdown cities.
While the total output of vegetables and fruits estimated at 1.1 million tons, the demand is only 500,000 tons. Some kinds of fruits have high expected output, including mango (40,000 tons), bananas (109,000), durian (75,000), oranges (40,000), longan (40,000), pineapple (30,000) and jackfruit (10,000).
MARD has suggested setting up depots for temporary farm produce, upgrading the supply capability of the distribution network, launching mobile sale programs, and promoting online sales.
The ministry emphasized the need to establish buffer zones for gathering farm produce, to create 'green passage' and 'green zones' for farm produce to prevent interruption of supply chains.
It said that cooperation should be strengthened with Viettel Post and VNPT Post, and delivery apps (Grab, GoViet) to support digital transformation in agriculture, promote electronic transactions, and bring farm produce to e-commerce sites.
The other solutions suggested by the Ministry of Agriculture and Rural Development (MARD) include cooperating with political and social organizations (women's associations and the Youth Union) to build a program to help farmers harvest and sell farm produce amid Covid-19.
Ministries and agencies need to join forces to settle technical and customs clearance problems and upgrade logistics infrastructure to prevent farm produce from getting congested at border provinces with China and in key export markets.
The ministry has asked local authorities to provide information about output, growing areas, crops, and key farm produce in their areas.
The information will be provided to mass media agencies to help promote consumption. Relevant ministries and branches need to join forces with localities to create consumption scenarios, and join forces with Ministry of Information and Communications to develop plans for key farm produce. 
Tam An

Many businesses don't want to invest in farm produce processing because it requires huge capital and brings low profits. Meanwhile, farmers face high risks and take losses during bountiful crops as they are not organized in a coordinated way.

An online forum has been organized to discuss solutions to help 19 southern provinces sell their farm produce.