Hanoi`s real estate market showed good movements in all segments, mostly apartment with record high supply in the last five years.
Hanoi's real estate market experienced the first three months of this year with significant movements in all segments, mostly apartment for sale, according to US-headquartered property services firm JLL.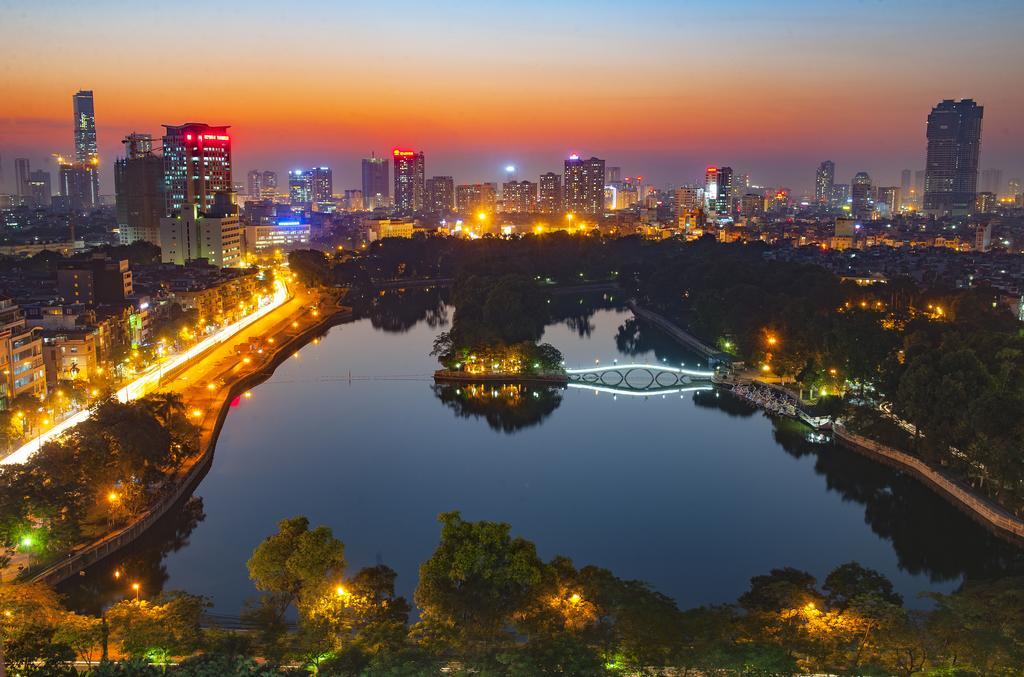 A view of downtown Hanoi. Illustrative photo
Residential segment: recorded surge

In the first quarter (Q1), the market witnessed a surge of 24.7% or additional 11,500 units in supply of apartments, recording a high level over the last five years, JLL has said in a latest report.

Up to 75% of new launches came from two large scale projects of Vingroup, namely Vinhomes Gia Lam Ocean Park and Vinhomes Dai Mo.
Take-up recorded a surge of 65% or additional 13,000 units from the previous quarter. As a result, the absorption was significant in either completed projects or projects nearing completion.
Price growth softened in the primary market, with an increase of less than 1.6% on quarter, resulted from rising levels of affordable housing stock. Premium segment was among the best performers, growing by 5.2% on quarter thanks to restricted available stock and strong demand of foreigner byers.


Residential market in Hanoi over past few years. Photo: JLL
Outlook: an average of 10,000-20,000 units are set to be launched each quarter until the end of 2019. The majority of the stock will come from affordable submarket thanks to strong demand for affordable housing among low- and middle-income groups.
Developers have approached new product strategy by lowering unit size to fit the budget of young owner-occupiers.
The eastern suburban area has been emerging as favorable spots for affordable housing developments owing to ample availability of land and reasonably low-priced.
The increase in launches towards the city's east and south can be attributed to the enhanced infrastructure activity and the first metro line will soon come into operation.
Prices uptrend will continue to strengthen but at a slower pace in the coming quarters.
Office market: slightly high rent
The total supply hit 1,927,000 square meter (sq.m) at the end of Q1, including 1,668,000 from Grade A and Grade B.
Nearly 60% or more than 1,152,000 sq.m of office space concentrated in the central business district (CBD) area, including Hoan Kiem, Ba Dinh, Hai Ba Trung, and Dong Da districts.
As of end Q1, the occupancy rate stood at 94% while the average gross rent continued to increase by 0.4% on quarter and 1.5% on year thanks to positive demand and relatively low vacancy.
The average rent for office buildings in the CBD was at US$24.2 per sq.m per month, up 0.5% on quarter. During 1Q19, the non-CBD sub-market inched up by 0.2% on quarter, attributed to the higher rents in newly completed buildings.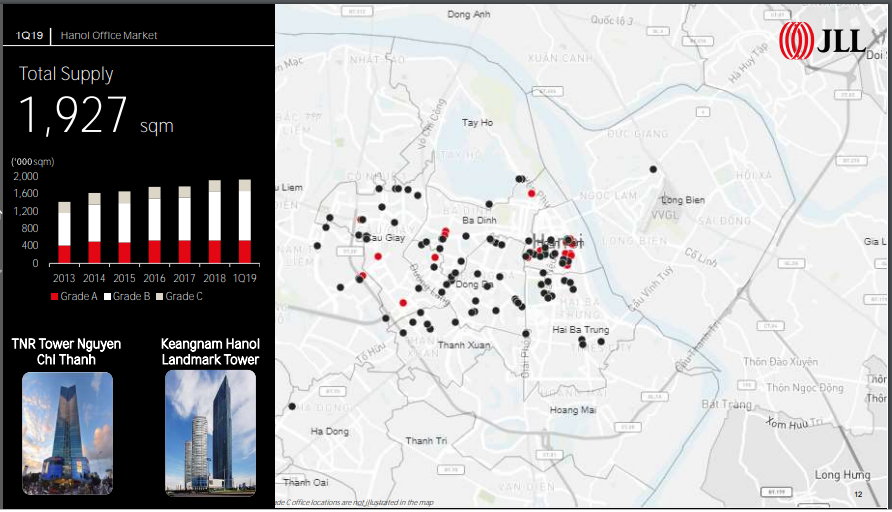 Office supply in Hanoi in Q1. Photo: JLL
Outlook: a wave of new supply is set to enter the market during 2019 with 12 buildings, including 25,000 sq.m from Thai Square, which is set to come on stream in Q2.
The expected notable increase in supply in near-term will likely put downward pressure on rent. While average rent in prime location may experience further rental improvement, the non-CBD area with higher available space is anticipated to soften. The overall market rent will continue to move in an upward trend.
Retail market: total stock unchanged
Total stock was unchanged at nearly 1,053,000 sq.m in Q1, up by 8.4% on quarter. Leasing environment was stable without new projects completed during the quarter.
The occupancy rate reached nearly 90%, up 1.6% on quarter with notable net absorption of 20,610 sq.m recorded in the quarter. Vincom Metropolis Lieu Giai was fully occupied with high-quality tenants after three months of operating, thanks to its good project design and prime location.
Good quality food and beverage (F&B) and fashion operators took most of leasing enquiries in Q1. The number of convenience stores continued to rise with the expansion of branded retailers such as Circle K and Vinmart.
Rents grew moderately with the overall market rent at around US$28.8/sq.m per month, increased by 0.02% on quarter and 1.1% on year. In CBD area, the average rent was recorded at US$84.9/ sq.m per month, up 0.2% on quarter, while non-CBD area saw a moderate increase 0.03% on quarter, at US$27.7/sq.m per month.
Outlook: Approximately 126,900 sq.m is expected to come on stream by the end of 2019, with nearly 46% of the total from Cau Giay District. All new retail projects are located in non-CBD area, putting pressure on developers to fill up vacant spaces.
Although rents are expected to only rise gradually, rising consumer incomes should help support fundamentals and in turn investor interest. The disruption from the e-commerce market is also another factor forcing landlords of brick-and-mortar malls to quickly adopt new and unique concepts to bring customers back to malls.
The demand for projects having good catchment area and eye-catching visibility remained strong, JLL emphasized.
Hanoitimes