The HCM City Department of Industry and Trade said eight key projects have been approved by the city government to promote the industry, trading, e-commerce, and exports and facilitate goods transport.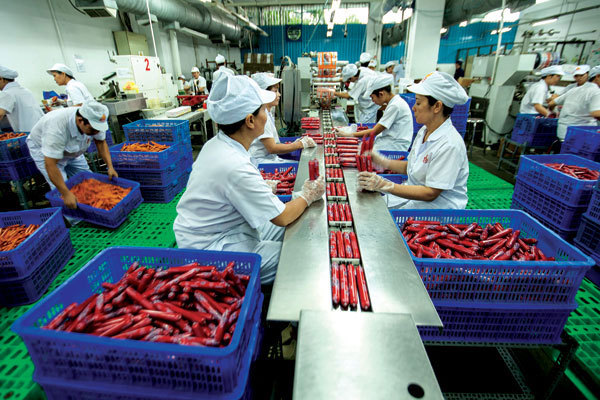 At a food processing company in HCM City. The city has approved eight key projects to promote the industry, trading, e-commerce, and exports and facilitate goods transport. 
To develop the industrial sector, the city has approved a list of key products like rubber-plastics, food and foodstuff and information technology-electronics – telecommunications, Trần Anh Hào, head of the department's industrial management division, said.
A support programme to develop their production in 2020-30 has been drawn up with a focus on developing human resources for them and support firms in these segments.
Also approved are three programmes to support businesses and plastics-rubber and mechanical engineering-automation products and the food processing sector until 2030.
They include plans to establish a rubber and plastic quality testing centre of international standards, help manufacture plastic resins and recycled plastic products, develop production chains for manufacturing automatic machinery and equipment, and establish a centre for research and development and manufacture of high-precision moulds.
Earmarking lands for building cold storage systems and warehouses for the food processing sector and developing raw material areas for it is also envisaged under the programme to promote the development of the food processing sector.
To support the development of e-commerce and exports, the city has approved various projects, Ha Ngoc Son, head of the department's import-export management division, said.
The e-commerce development project will focus on expanding the size of the market in 2021-25 and help e-commerce firms in HCM City expand internationally in the next five years.
The industry will enhance the use of modern technologies to meet various demands of customers.
The export development project would seek to improve the competitiveness of typical export products and shift labour-intensive traditional industries to the city's outlying areas, develop infrastructure to facilitate transport of export goods and draw up a human resource development strategy to support export activities, Son said.
The eighth project the city has approved is for logistics development.
Under it, it will establish seven logistics centres with a total area of ​​623 hectares to improve the transhipment of goods and support the city's retail system and e-commerce by reducing traffic congestion and pollution and optimising delivery times.
The logistics sector would adopt IT to create a shared eco-system for both private enterprises and state agencies, Son said.
It would also enhance human resource training to enable the city to become a hub for churning out human resources for logistics, he added.  
VNS

Sustainable regional linkages between HCM City and five other regions are expected to play a vital role in the recovery of the tourism industry, which has been seriously affected by the COVID-19 pandemic.

The market for integrated circuits (IC) and semiconductors in Vietnam has huge potential, offering great investment opportunities for domestic and foreign enterprises, according to experts.