HCM City plans to draw up specific policies for firms having capital of more than VND100 billion (US$4.3 million) in the first quarter of this year, and has committed to create more favourable conditions for enterprises.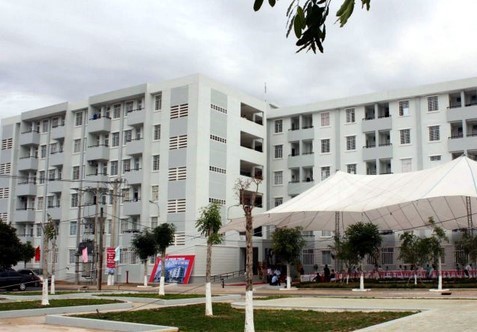 A social housing project in HCM City. The People's Committee held a conference on February 22 to discuss solutions to help untie difficulties faced by firms in the real estate sector. — Photo nld.com.vn
Speaking at a meeting in HCM City on February 22 to discuss measures to solve difficulties faced by firms in the real estate sector, HCM City People's Committee Chairman Nguyen Thanh Phong said that real estate had been one of the city's leading economic sectors since 2000.
The sector had experienced ups and downs but continued to have a strong cash flow, and had significantly contributed to the city's economic development, he said.
Last year, as many as 415,000 new businesses began operation in the city, of which 15,000 were in the real estate sector.
The city has 9,000 large-scale enterprises with registered investment capital of over VND100 billion each, and 30 per cent of them are in the real estate business.
Large enterprises account for only 2 per cent of the total number of businesses in the city, but account for 70 per cent of total registered capital.
Last year, however, the construction sector grew by only 1 per cent. The contribution to GDP of the real estate sector was the lowest among nine service sectors.
"We know that most businesses are in difficulty and have seen reduced revenue, and have not met targets. As a city leader, we have listened, and we want to accompany and solve problems faced by enterprises. But in reality there has been stagnation in law enforcement in some departments," Phong said.
In 2019 only four commercial housing projects received approval for investment, down 24 projects compared to the same period in 2018, while 16 projects were approved, a reduction of 64 projects compared to 2018, he said.
He attributed the situation to an overlap among laws and to reviews of legal procedures for some projects. This has greatly affected real estate projects, lowering business revenue and collections for the State budget.
"The departments must understand that the hardship and difficulties of real estate businesses are also those of the city. Businesses that develop well are the success of the city. When businesses face problems, departments and agencies must share their difficulties and should not cause more problems for them," he said.
"With the duty of serving businesses and people, I suggest departments and agencies implement serious solutions according to legal regulations to help untie difficulties faced by businesses."
According to Phong the city always strives to promote the real estate market and enable the city to become a service and real estate centre of the country.
To support leading enterprises in various sectors to develop into large groups with improved competitiveness, the city needs to have specific policies dedicated to large enterprises, especially those involved in the real estate sector.
As planned, in the first quarter of this year, the city will issue policies to support enterprises with capital of more than VND100 billion, including those in the real estate sector.
At the same time, the city has committed to do everything it can to ensure economic and political stability and create favourable conditions for city-based enterprises to do business efficiently and successfully. VNS

The Ho Chi Minh City property sector has in recent years attracted billions of dollars worth of foreign investment due to its growth potential, real estate consulting companies have said.

Many real estate developers in Ho Chi Minh City are facing stagnation in hundreds of projects due to insufficient legal paperwork.