Fake and low-quality goods and knock-offs are increasing relentlessly in HCM City and can only be prevented through combined efforts by both authorities and businesses, a seminar heard on Wednesday.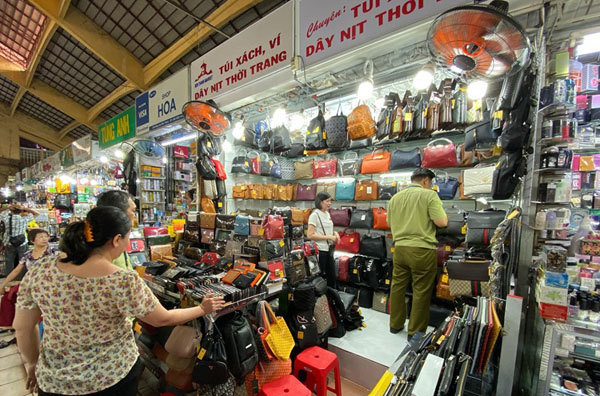 Officials from HCM City's General Department of Market Management find knock-offs of some luxury items at Ben Thanh Market.
Tran Van Dung of the General Department of Market Management said the long-term fight against these goods would not succeed without the active co-operation of enterprises and society.
A report by his department said violations are becoming increasingly sophisticated and well–organised, especially in the cases of food, agricultural materials, construction materials, drugs, and consumer goods.
Tran Trinh Tien, a department official, said city authorities are seeking more effective measures in the fight against counterfeits, smuggling and trade fraud as e-commerce grows rapidly.
But the fight remains challenging, he said.
"Tightening checking for counterfeit goods at major markets like Ben Thanh, Binh Tay and An Dong is vital."
The inability to root out fakes and piracy is due to the lack of stringent penalties, poor co-ordination between authorities and enterprises, limited human resources, and outdated equipment and facilities, he added.
Nguyen Thanh Danh of Binh Duong Province's market management department said counterfeit goods and trade fraud related to intellectual property rights are affecting the investment environment and consumers.
Counterfeit goods fetch large profits in a short time but the penalties for their sellers are very lenient, he explained, saying violators therefore tend to be repeated offenders.
"Some enterprises are not aware of the seriousness of the counterfeit problem, others do not actively co-operate with authorities and most of the public are ignorant about it."
Consumers also lack awareness and legal knowledge about commercial businesses, and are often deceived by cheap products that could be unsafe for their health, he added.
Solutions
Tran Trung Nghia, a businessman, said to combat the problem city authorities should closely monitor goods that are susceptible to piracy and forgery as well as people trading fake goods in the past.
"They should work closely with enterprises and related authorities. The most important thing is that market authorities should regularly update lawmakers on the changing situation."
Businesses need to have greater awareness of counterfeits and co-operate closely with relevant authorities, he said.
"Enterprises should improve their technologies to make it harderfor their goods to be faked." VNS

Around 1,500 counterfeit bags and wallets bearing international famous brands have been detected at a shop in Hanoi.

The HCM City Steering Committee 389 under the instruction of National Steering Committee 389 will hold more inspections of fake or smuggled goods such as petrol, chemicals and solvents from now until Tết 

The Vietnam Directorate of Market Surveillance is investigating sites suspected of selling fake, counterfeit and imitation products in HCMC and has already seized over 1,830 items at Ben Thanh Market and Saigon Square Shopping Center.