More than 80,000 shippers are ready to serve customers but few eateries and street shops have reopened.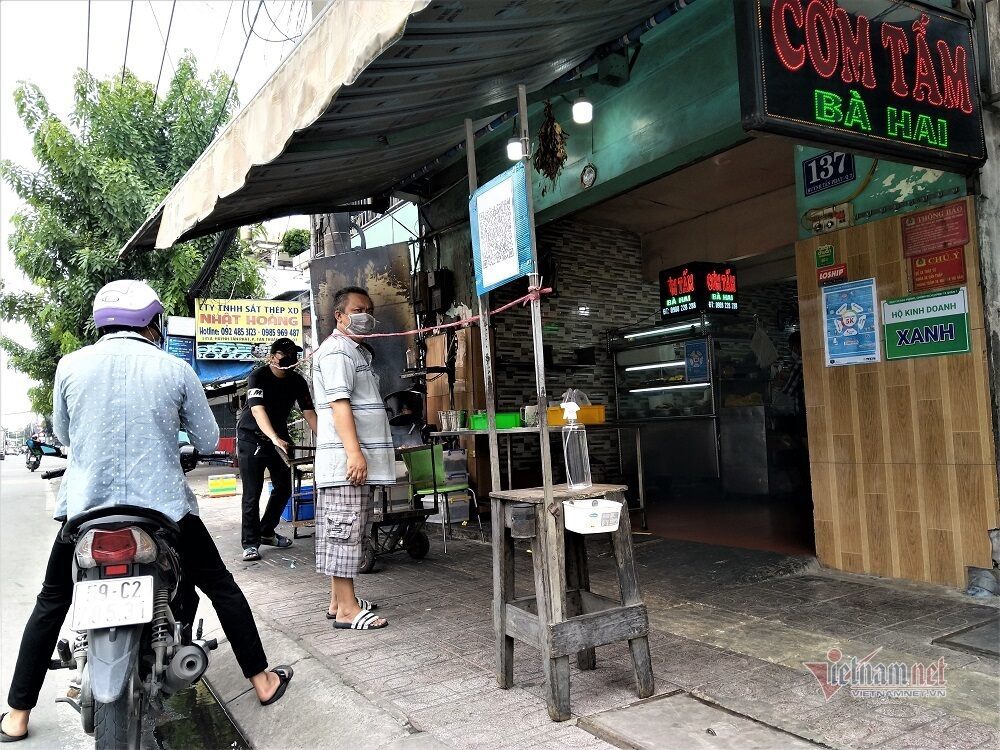 A green shop in HCM City
The owner of Bun Bo Hue Ben Ngu (Hue-style vermicelli with beef) on Huynh Tan Phat street said to obtain a certificate for "green business households" and reopen, he has to apply the 'three on-site' model (eating, working, staying on site) . He also has to have workers tested regularly and pay testing fees. Local authorities send officers every day to the shop to examine the application of anti-pandemic regulations.
He said input material prices have increased by 20-25 percent, which has increased selling prices.
Ngoc Dau, the owner of a hu tieu (noodle soup) shop in district 7, said her workers left for their hometowns when the shop suspended operation. If reopening the shop, she would have to recruit new workers or follow procedures to get travel permits for former workers to return to HCMC.
VietNamNet found that there were very few shops classified as green business households on major streets in District 7 (Nguyen Van LInh, Nguyen Thi Thap, Le Van Linh and Huynh Tan Phat), which is considered a lower risk district.
The number of service points which have been reopened in districts 1, 3, Binh Thanh and Phu Nhuan is also modest.
Tran Thu Hau, the owner of a com tam restaurant in district 1, said she doesn't intend to reopen at this time because material prices are fluctuating and the number of office workers – her major clients – returning to work remains modest. Clients are also having difficulties in placing orders, and transportation costs are high.
Van Manh Phu, a shipper in Phu Yen, said it's difficult to order food because of transport problems. It is easy to move from A to B on the map, but in fact, shippers have take roundabout routes to reach the destination because some streets are still blocked.
He said the city is paying for Covid-19 testing fees for shippers until the end of September. After that time, if the policy ends, it's highly possible that many shippers will stop working because the pay not enough.
Amid complaints about high shipping service fees, the HCM City Department of Industry and Trade has asked service providers to charge the same fee applied before social distancing.
Deputy Director of the department Nguyen Nguyen Phuong said at a press conference on September 20 that 82,000 shippers have registered to work. 
Tran Chung 

Delivery service companies will have to test their staff with rapid antigen tests provided by the health sector, and update the testing results into HCM City's shared database beginning Friday (Sept 24).

HCM City is struggling providing COVID-19 tests to local shippers as the number of shippers registered with the city's Department of Industry and Trade has soared over the last few days.