HCM City will continue to auction 5,034 resettlement apartments and 43 land lots designed for building relocation housing following earlier unsuccessful attempts, according to the Department of Construction.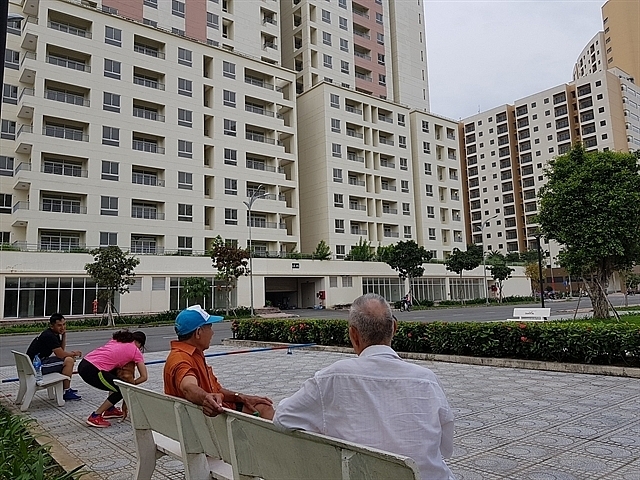 A view of Binh Khanh resettlement apartments in HCM CIty.-Photo vietnambiz
The auctioning council for land use rights will discuss the auction plans and submit to the People's Committee.
This time the council plans to divide the auction into smaller packages to make it less unwieldy for bidders.
The apartments are part of the 12,500 resettlement apartments built in the Thu Thiem New Urban Area in District 2 five years ago.
Explaining why such a large number of apartments have not been allocated to people, Tran Trong Tuấn, the department's director, said before 2010, when the city acquired lands, sellers wanted resettlement apartments in exchange rather than money.
So the city built a large number, but when their construction was complete, the sellers' demand changed and they wanted cash, he said.
Last year the HCM City Land Fund Development Centre and Department of Natural Resources and Environment announced two auctions for selling nearly 4,000 apartments but failed to attract any interest, with five bidders registering the first time and none the second time.
According to an official from the Department of Natural Resources and Environment, the reserve price for 5,034 apartments at the upcoming auction will be at least VND12 trillion (US$517 million).
Talking about the process of participating in the auction, Pham Van Sy, director of the Department of Justice's Property Auction Service Centre, said investors who want to participate must deposit 20 per cent in advance and the bid winner must pay 50 per cent of the value within 30 days and the remainder within three months.
Asked why the authorities are not selling apartments individually, he said merely it was the government's policy.
But to avoid failures like in previous auctions, the centre was proposing to divide the lot into smaller packages so that investors could easily bid.
Le Hoang Chau, chairman of the HCM City Real Estate Association, told Nguoi Lao Dong (The Labourer) newspaper that there were three reasons for the previous auction failure.
Firstly, the total value was too big, which made it unaffordable for many businesses.
Secondly, the apartments were associated with resettlement while their price was the same as that of commercial apartments, making customers uninterested.
Thirdly, there was a concern about the quality of the apartments.
"The city needs to change the auction method," he added.
According to economist Vo Kim, the easiest solution is to upload information about unsold apartments online, and anyone wanting to buy can register to buy.
If the apartments remained unsold, they would keep deteriorating, making it even more difficult to sell them, he pointed out.
According to the Department of Construction, the city currently has nearly 14,000 resettlement apartments, concentrated mainly in Vinh Loc B and Thu Thiem areas.
Of them, 1,000 would be kept for emergency evacuation purposes in case of natural and other disasters, 5,500 would be auctioned and the rest would be used for resettlement, it added. VNS