HCM City's Tax Department has announced a list of nearly 1,700 companies with total unpaid tax debt of almost VND4.5 trillion (US$193.5 million).
Tax collections from online content creators remain challenging
Proposed soft drink tax remains controversial
Experts propose higher fuel tax
Lower corporate income tax sought to stimulate SME development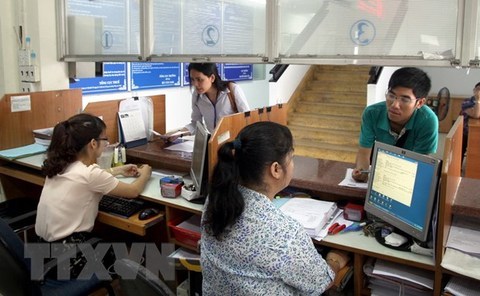 People submit tax documents at HCM City's Tax Department.
Thanh Ngan Real Estate Ltd Company owes the biggest debt – more than VND190 billion ($8.17 million). The second biggest debtor is the HCM City branch of Binh Duong Stone Construction Ltd Company, owing VND120 billion ($5.16 million), and the third is No. 8 Construction and Investment Joint Stock Company with debt of more than VND114 billion ($4.9 million).
The public announcement of tax debtors is made monthly as a measure to speed up tax collection.
According to the city's Tax Department, it is applying stronger measures to collect unpaid taxes.
By the end of last month, the department collected tax debts of nearly VND2.5 trillion, accounting for about 11 per cent of total debts accumulated until December 31, 2018.
According to the Finance Ministry's official dispatch No. 9901/BTC-TCT from November, 2018, tax agencies would make phone calls, send text messages or email to inform companies of their tax debt if they delayed paying for between one and 30 days.
If payment is delayed for between 31 and 60 days, the tax agencies would issue notifications and fines.
If payment is delayed for between 61 and 90 days, the agency would inform the offending party of the various types of punishment.
For debts unpaid for between 91 and 120 days, tax agencies are authorised to implement forcible measures including extracting or freezing bank accounts.
For tax payers who have either accrued the largest amounts of unpaid taxes in a locality or have failed to pay their taxes within 120 days despite notifications from tax agencies, the agency will freeze their assets and declare their receipts invalid, the dispatch said. — VNS