HCM City should draft a master plan to develop its logistics sector, Pham Thanh Kien, director of its Department of Trade and Industry, said.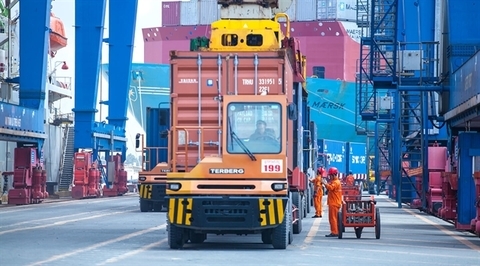 Cargo being loaded and unloaded at Cat Lai Port in HCM City's District 2.
Speaking at a conference held to discuss the development of the industry from now through 2025 recently, he said the city should learn from experiences in other countries and to develop the industry into one of its major sectors.
HCM City should be developed into a logistics hub for the region, and the cost of logistics in Viet Nam should be reduced to 16 per cent of the country's GDP (gross domestic product) by 2025, he said.
Ho Thi Thu Hoa, head of the Viet Nam Logistics Research and Development Institute (VLI), said researchers for a project to develop the city's logistics industry have carried out fact-finding tours of eight locations where the city's logistics centres would come up.
They include the Dong Nam Industrial Park (in Phu Hoa Commune, Cu Chi District), Tan Kien Port (in Tan Kien Commune, Binh Chanh rural District), Cat Lai Industrial Park (in Thanh My Loi Ward, District 2), Long Binh ICD (inland container depot in Long Binh Ward, District 9), Cu Chi ICD (in Binh My Commune, Cu Chi rural District), Phu Dinh Port (in District 8), Linh Trung Export Processing Zone (EPZ) (in Linh Trung Ward, Thu Duc), and Long Thoi Commune in Nha Be rural District where the logistics centre of the Hiep Phuoc Port Urban Zone will be built.
Many infrastructure facilities will be developed in these areas.
The five to be prioritised are the 50ha Long Binh, the 15-20ha Tan Kien, the 100ha Cat Lai and Hiep Phuoc, and the 15-17ha Cu Chi.
The city authorities will invest in the development of logistics and IT infrastructure and human resources.
It requires an estimated VND9.07 trillion (over US$3.92 billion) to develop the logistics industry in 2020 – 30, including VND1,136 billion for the period 2020 – 2025.
Relevant agencies have also suggested the PPP (public – private partnership) model for developing infrastructure.
The project will be considered by the People's Committee in mid-December according to the department.
The conference was organised by the HCM City Trade Department, the VLI and other city agencies. — VNS

Despite being considered as the driving force of Vietnam's economic growth, agriculture has been held back by an incomplete logistics system which fails to ensure quality and connect farms with markets. 

Growing demand from e-commerce users is putting pressure on existing supply chains, facilities and warehouses.