A "sound economic and legal environment" that supports an open and efficient market is needed to turn HCM City into an international financial centre, experts said on Oct 18 at a two-day international economic forum.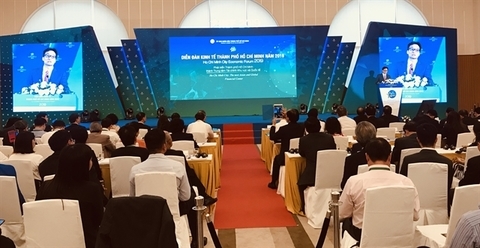 Deputy PM Vu Duc Dam speaks at the HCM City Economic Forum on Friday.
More than 800 local and international experts, including leaders of the World Bank, IMF, IFC and ADB as well as financial experts and leaders of financial centres, are participating in the HCM City Economic Forum.
Alwaleed Alatabani, lead financial sector specialist at the World Bank in Viet Nam, said that such an environment must include "financial stability, financial soundness as well as competitiveness".
Policies should support financial intermediation that promotes the stability, integrity, diversity and efficiency of the financial system, including transparency, he said.
All of these factors would protect the safety and soundness of the financial system, he added.
To protect users of financial services, measures consistent with the standards and practices of major international financial centres are vitally needed as well, according to the specialist.
An international financial centre is defined as a jurisdiction from which international financial business can be conducted easily and efficiently.
"Financial centres often provide an array of competitive financial services to a variety of clients that include standardised and structural financial products," Alatabani said.
Financial centres cater to a variety of financial institutions, including banks and non-bank financial institutions such as insurance companies and corporates.
"Typically, financial centres have skilled management and intellectual talents covering business, finance and interdependent supporting services such as legal accounting. They provide multi-disciplined teams that facilitate large domestic and cross border transactions in an efficient and timely manner," he said.
Key characteristics of international financial centres include deep, liquid and sophisticated capital markets, as well as competitive tax and regulatory regimes designed to attract foreign investment in financial services.
It also includes a regulatory environment conducive to financial services, strong infrastructure and financial services skills, he said.
Le Hong Giang, director of the Investment Strategy Fund Tactical Global Management, said the legal framework for financial centres must be clear.
Financial services had become more reliant on technology, so the nature of a financial centre would shift to a hi-tech centre, he said. "This will prove to be a challenge for existing centres but an opportunity for new financial centres."
Dr Tran Du Lich, member of the Government Advisory Group, said that HCM City was a gateway to major financial centres and capitals of ASEAN countries. The idea to turn the city into a regional and international financial centre was not new, but it would be an essential part of the National Economic Strategy to 2030, he said.
The growth of the financial market, particularly in HCM City, had not been consistent. Depending on the banking system for all kinds of capital had significantly distorted the financial markets, he said.
Nguyen Thanh Phong, chairman of the city People's Committee, said the finance sector was considered among the top nine service sectors during the past two decades.
The HCM City Stock Exchange was established in 1998 to serve as an important premise for the financial market to steadily grow and contribute significantly to the city's economy.
Recommendations
Peter Hong, vice chairman of Business Associations of Overseas Vietnamese, said the financial sector was the backbone of the city and developing it into an international financial centre was a good idea.
To do so, the city would need to attract human resources from major financial corporations and create incentive policies to maintain a balanced development between financial businesses, he said.
Vu Thanh Tu Anh, director of Fulbright University in Viet Nam, said to become a global financial centre, the city must create a legal framework on the financial sector and new regulatory institutions.
Chu Tien Dung, chairman of the HCM City Union of Business Association (HUBA), recommended that the city develop a complete financial ecosystem that meets international standards, including an international financial centre to conduct cross-border financial transactions with diverse financial products.
Nguyen Thien Nhan, secretary of the city's Party Committee, said the city had an ambitious goal to become a regional and international financial hub after years of delay of carrying it out.
Nhan urged the city to develop a detailed plan to turn HCM City into a regional and international financial hub, which would enhance socio-economic growth locally, nationally and regionally.
By June next year, the city, which contributes 45 per cent to Viet Nam's gross domestic product, is expected to start building a financial centre complex in the Thu Thiem new urban area in District 2.
Deputy PM Vu Duc Dam highlighted the city's achievements in socio-economic development, making the city a destination for many firms across the world to come for investment.
"HCM City will continue to aim for sustainable growth by improving the quality of its competitiveness and growth through healthy economic restructuring," he said. "The city will also ensure a favourable business environment for enterprises, and encourage start-ups, innovation and smart-city measures."
HCM City accounts for only 9.36 per cent of the national population, but it contributes 14 per cent to the country's export value and 27 per cent to state revenue.
The annual forum is organised by the People's Committee and HUBA with this year's theme "Turning HCM City into an Asian and International Financial Centre". — VNS