HCMC Development Commercial Bank, or HDBank, on December 18 opened a representative office in Myanmar and signed a comprehensive cooperation agreement with Viettel Global Investment JSC.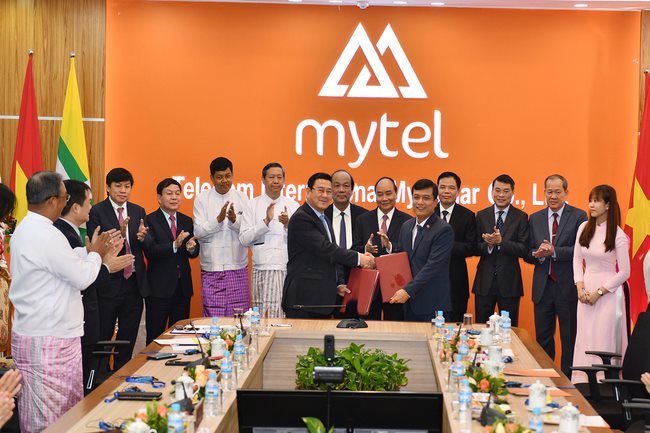 HDBank and Viettel Global Investment JSC sign a comprehensive cooperation agreement in Myanmar on December 18, including a commitment to finance the latter's telecom project in Myanmar, Mytel - PHOTO: HDBANK
The inauguration of the office took place in the presence of Vietnamese Prime Minister Nguyen Xuan Phuc, who is on an official visit to Myanmar; State Bank of Vietnam Governor Le Minh Hung; and Central Bank of Myanmar Governor Kyaw Kyaw Maung.
Located at Unit 2, 20th Floor, Tower 192, Kaba Aye Pagoda, Bahan Township, Yangon, the representative office, HDBank's first overseas branch, marks an important step in its strategy of reaching out to the international market and a milestone before its 30th anniversary of establishment.
Speaking at the ceremony, Governor Hung noted that Vietnamese commercial banks have always been supported by the Government, the central bank and other relevant agencies of Myanmar, and the presence of HDBank, the fourth Vietnamese bank in Myanmar, is a clear demonstration of that spirit of cooperation.
The representative office will focus on promoting investment and negotiations, carrying out transactions, supporting HDBank's customers, introducing them to the banking network in Myanmar, supervising foreign loans given by HDBank and creating an important connection to support HDBank's partners in business and investment in Myanmar.
With eight million customers in an exclusive ecosystem comprising aviation, supermarkets, telecommunications and finance and banking, HDBank will continue to exploit its network of local customers as well as Vietnamese customers in Myanmar.
It has established agent relationships with some 400 banks and branches in many countries and territories around the world, including all major markets.
At the opening ceremony, HDBank and Viettel Global also signed an agreement related to investment projects in Myanmar. They will cooperate in the fields of credit, deposit products and banking services, telecommunications and information technology services.
Viettel Global will support HDBank and its partners and customers in terms of telecom services and IT solutions, create convenient conditions for the bank to participate in its telecom projects and cooperate with it for domestic and international payment services.
HDBank will offer credit services, deposit products and other banking services to Viettel Global, its staff and customers. It will support Viettel Global's Myanmar project, Mytel, providing credit and other services, as required by the project. SGT