Social distancing measures being enforced during the current pandemic has significantly changed the way people interact, and thus created an unprecedented crisis for the hospitality sector across the globe.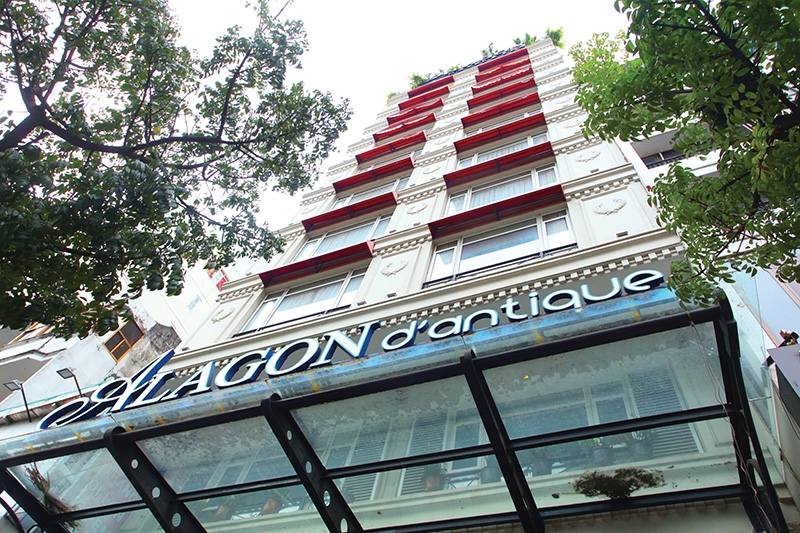 Many hotels are for sale, especially in the main centres of Ho Chi Minh City, Hanoi, and Danang, photo Le Toan
The detrimental impact of the pandemic has brought many hotels on the verge of a financial crisis, and more Vietnamese hoteliers are now seeking foreign investors to sell their assets in the wake of current COVID-19 outbreaks.
Vietnam has been an alluring investment destination for hotel investments to both local and foreign investors. The interest to participate in hotel mergers and acquisitions (M&A) is very high, and most international hotel investment groups and funds have been looking at Vietnam.
"They see both the short- and long-term potential of the country for hospitality and real estate. In several cases, investors are willing to accept a period of negative cash flow while waiting for recovery," said Mauro Gasparotti, director of Savills Hotels APAC.
However, Gasparotti added, the main obstacle for M&A was never the lack of investment demand but the very limited availability of quality products for sale. Building a high-quality resort or hotel is a much more complex exercise compared to other real estate assets.
"There are limited developers in the country that could truly deliver a product that will be worth the attention and interest of international investors. Location is very important, similar to construction quality, design, functionality, positioning, and management," he said.
Navigating the crisis
Eric A. Baumgartner, managing director and founder of Dome Hospitality, said that small- and medium-sized hotels are feeling the brunt of the pandemic, particularly if they are located in a city centre.
"City centre hotels do not have any more tourists or overseas business travellers coming to Vietnam as a group for international conferences. Resorts were able to maintain some activities due to the fact that people cannot take holidays overseas. Nevertheless, resorts had to reduce their staff numbers, lower their rates, and sometimes close three or four days per week to save costs. But some resort owners made the choice to close, as remaining open was still too costly," commented Baumgartner.
Global brands, and the leisure-and-travel sector in general, have been hit hard during the pandemic, with lockdowns and health concerns curbing visitor numbers. But the strong economic recovery, ongoing vaccine rollouts, and a broad pent-up desire to travel is expected to spur a raft of bookings.
According to JLL's Global Hotels Investment Outlook Report 2021, 70 per cent of investors said they will be targeting hotels in Asia-Pacific, including Vietnam. Global hotel investments are expected to increase up to 35 per cent to $35 billion this year compared to 2020.
Gasparotti noted that many mid- and small-scale hotels in Vietnam are now for sale at distressed prices, but very few have come to a successful deal. The smaller hotels are less enticing to international investors unless there is a portfolio sale, with one single owner selling multiple properties.
"Since properties in the mid-scale segment typically have low room rates, it is important that properties run at high efficiency and operating margins. This is typically only possible with properties featuring higher inventories of rooms. Smaller properties are less interesting for international investors and only appeal to hotel owners with an existing portfolio in the country," said Gasparotti.
Globally, liquidity for hotel investment is still high, with several funds actively looking for deals, but the expectation of a price drop for prime assets did not occur as much as anticipated. Despite the unprecedented pandemic, Vietnam's hospitality segment is proving its attractiveness to foreign investors as they believe in the vast potential of the dynamic domestic economy.
There is also an increasing trend from foreign investors penetrating Vietnam's segment through M&A.
Most of these overseas groups are investment funds, big hospitality players or corporations looking for diversification and hospitality-oriented real estate financiers.
However, their priority lies on real estate acquisition, not hospitality businesses. Moreover, if they open their hotels within the next 6-12 months, hotels operations will not be profitable yet due to the lasting pandemic.
"Currently, we have a demand from Japanese corporations which are already in the hospitality business, and they give their properties to hotel management companies to take care of operations. South Korean companies are also active players in Vietnam, and specifically invest in golf resorts," said Baumgartner.
Nevertheless, the number of hotel M&A transactions in Vietnam remains negligible, mainly due to price gaps between buyers and sellers. The asking price from sellers has always been a major obstacle for transactions to take place.
Overpriced transactions
Globally, the liquidity for hotel investments remains high, with several funds actively looking for deals. Interestingly, the expectation of a price drop for prime assets did not happen, with several assets globally transacted for prices similar to 2019.
"That said, in the past two months the number of transactions has risen. We have witnessed resort properties changing ownership in various locations, mostly from Vietnamese to Vietnamese as well as some city hotels which are now in the final stage of negotiations. At least one major transaction should be announced in the upcoming time. The interest is still very high, not only in city hotels or prime resorts but also in high-quality development sites," noted Gasparotti.
Baumgartner emphasised that M&A price processes should be negotiable in these challenging times. Every property for sale that Baumgartner receives currently is overpriced based on basic hotel operations, financial ratios, and international market trends.
Hotel sellers often demand a selling price higher than the market value or the initially negotiated price. Notwithstanding, sellers are in difficult financial situations, thus their options are limited. Most of the time, the choice is to minimise losses as profits on hotel sales are out of reach right now.
"Investors shop the world and look for the best yield. In our portfolio, we currently have hotels for sale in Europe which offer three times the yield than we can find in Vietnam. In addition to that, in Europe tourism has resumed and many hotels will enjoy a very good occupancy for this summer season, whereas the majority of hotels in Vietnam are closed or cannot exceed a 5-per-cent occupancy rate on a monthly basis," Baumgartner said.
"Hotels' overall debt is increasing day by day. They were able to negotiate some loans, but how will they be able to reimburse their loans if they keep their selling prices at a discouraging level for investors and have no business at all? Hotel bankruptcies will plunge the Vietnamese banks into a nightmare, and as we could observe in other countries years ago, banks will try to sell off these hotels for a bargain to try to recover at least 50 per cent of their losses," he cautioned.
Source: VIR

The gradual opening of international routes and the pilot opening of some tourist sites for foreign tourists are among important solutions in efforts to save the aviation, tourism, hotel and service industries.