As the richest Vietnamese person with total assets worth $8.1 billion, Pham Nhat Vuong only ranks ninth among the wealthiest billionaires in Southeast Asia, according to Forbes.
Vuong's total assets are three times higher than the second richest billionaire Nguyen Thi Phuong Thao, chair of Vietjet Air, who has$2.5 billion.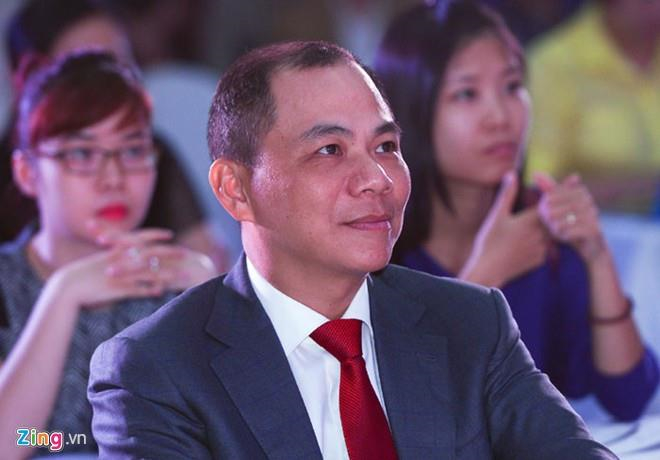 Vietnamese dollar billionaire Pham Nhat Vuong


From early March, when Forbes released the list of the world's billionaires, to early August, Vuong's total asset value increased by $1.5billion. This is attributed to the continued price increase of VIC shares of Vingroup where Vuong holds 26.18 percent of shares. VIC market share price has increased by 10 percent compared with March.

Also according to Forbes, the assets owned by Thao have increased by $200 million since March. With $2.5 billion worth of assets, she is among the top 1,000 wealthiest people in the world.

From early March, when Forbes released the list of the world's billionaires, to early August, Vuong's total asset value increased by $1.5billion.
 Unlike these two businesspeople, Ho Hung Anh, chair of Techcombank, has seen his assets decrease by $200 million in value because of the price decrease of TCB shares.

Since March, TCB price has decreased by 25 percent.

Meanwhile, the stock assets of Tran Ba Duong, chair of Truong Hai Automobile (Thaco) and Nguyen Dang Quang, chair of Masan Group, remain stable. The two billionaires have $1.7 billion and $1.3 billion, respectively, worth of assets, the same as the beginning of the year.

As such, the group of five richest billionaires saw their assets increase by $1.5 billion after five months, equal to the increase of the asset value of Vuong.

With $8.1 billion worth of net assets, the president of Vingroup now ranks 195thin the list of the richest billionaires in the planet, a jump of 40 notches compared with the beginning of the year.

Indonesian brothers Michael Hartono and R. Budi Hartono are the richest billionaires in Southeast Asia with total assets of $38.5billion, divided equally for both.

No 8 belongs to a Malaysian man, Quek Leng Chan who now has $9.3 billion worth of assets. He is chair of Hong Leong group, which makes investment in finance & banking, real estate and food.

In Vietnam, Charoen Sirivadhanabhakdi is a well known name. He spent $5 billion to take over Sabeco, the Vietnamese best known brewery brand, in late 2018.

The Thai billionaire has $16.5 billion worth of assets.

Analysts commented that compared with other Southeast Asian countries, Vietnam has fewer billionaires and a lower value of the assets.

Southeast Asia has six countries which have at least one dollar billionaire, including Vietnam, Indonesia, Malaysia, the Philippines, Singapore and Thailand.

With 5 billionaires, Vietnam has the lowest number of billionaires. Meanwhile, there are 31 billionaires bearing Thai nationality, 22 Singaporean and 21 Indonesian. 
M.Ha

Billionaire Pham Nhat Vuong has for the first time moved up to the top 200 of the Forbes' rich list as of July 31.  

At the invitation of First Deputy PM and Minister for Foreign Affairs of the Republic of Serbia Ivica Dacic, Mai Vu Minh - who is chairman of Germany-based SAPA Thale Group, is paying a working visit to the Republic of Serbia today.