Deputy Minister of Science and Technology Tran Van Tung, speaks to Hải Quan (Customs) Online about how to differentiate genuine goods from fake products.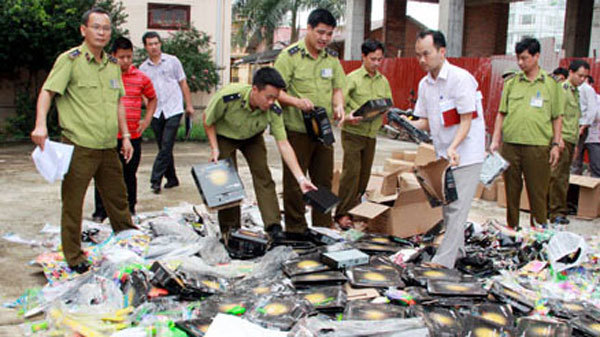 Illustrative image -- File photo
What should Vietnam do to co-operate with other countries to prevent trade fraud and fake goods?
Co-operation with other foreign countries in the fight against trade fraud and fake goods is very important. Fake goods have become a common problem worldwide. That's why, we need strong co-operation between nations and enterprises in the fight against fake goods and close co-ordination to protect intellectual property rights as well as law enforcement agencies, including the FBI.
What advantages and disadvantages does Vietnam have in the fight against trade fraud and fake goods?
Vietnam has adopted legal documents to tackle trade fraud, including the Law on Intellectual Property Rights, which is similar to other international laws.
Vietnamese enterprises should co-operate with the Ministry of Science and Technology, the Ministry of Public Security, the Ministry of Industry and Trade and others.
The Government has established a National Steering Committee to fight trade fraud and fake goods.
What challenges does the General Department of Customs face?
The General Department of Viet Nam Customs is a very important State management agency in the fight against trade fraud and fake goods, particularly at border gates. Their mission is to detect and prevent the illegal import of fake goods to protect Vietnamese consumers and enterprises. However, to deter the infiltration of fake goods, customs offices have face many challenges.
How can consumers differentiate between genuine and fake goods, particularly daily commodities and food?
We want to work closely with agencies to launch communication campaigns to raise consumer awareness about fake goods.
To recognise whether goods are fake or not, I recommend looking at the trademarks. For example, Vietnamese goods are stamped with 893. Besides the trademark, each product also has a QR code. By reading the QR code, we can find out where the goods came from.
VNS
RELATED NEWS
Ministry warns of increasing trade fraud via "made-in-VN" labeling
Multi-level marketing is under strict managment