For years, the supply chain of the Mekong Delta's agricultural products has remained fragmented, and the smallholders have been struggling to get wealthier, getting trapped in the vicious cycle with no way out. What could be the reasons?
The paradox of "the exporting fear"
My Hoa Commune (Binh Minh, Vinh Long Province), has been well-known as the Mekong Delta's "Kingdom of Nam Roi pomelo" a delicious strain of pomelo in Vietnam, with 1,400 hectares of land under cultivation and approximately 50,000 metric tons of annual yield. Although being responsible for the production of this famous fruit, pomelo farmers in My Hoa Commune have yet been able to gain wealth.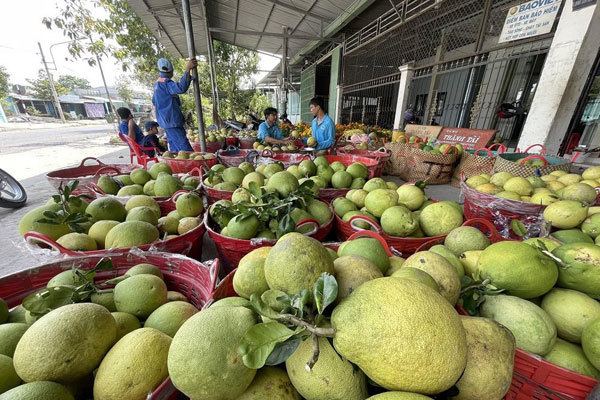 Pomelo farmers in the Mekong Delta are still unstable, not yet rich.
According to My Hoa Commune's leaders, there was a time My Hoa people got uplifted when the pomelos were exported to Europe, and other demanding markets such as Russia, Canada, Poland, Ukraine, or Japan. Albeit this has brought high expectations, the local farmers, however, have not been able to get a lot of benefits. One of the main reasons is that the current quality standard of pomelo products does not match requirements.
Mr. Nguyen Van Em, Head of Nam Roi Pomelo Cooperative Tan Phat (My Hoa Commune, Binh Minh Town) said, in 2018 the Cooperative Group had been excited to have 36 tons of pomelos exported to Ukraine worth nearly VND1 billion. The buyer had made an advance payment of 70% of the total contract value and the outstanding 30% would be settled upon receiving the goods. According to the initial planning, the transportation to Europe would take 46 days, and after that, the fruit would be brought to the supermarket for sale within 30 days resulting in a total of 76 days during which the quality should still be ensured.
"But things were not as we expected. When the goods arrived, they claimed that it had been damaged, so they did not pay the remaining 30%. We struggled with a capital loss. Since then, we are afraid of exporting (pomelos)," Mr. Em said. 
Solutions needed for takeoff
Besides the quality issue, the Mekong Delta's agricultural products also face price volatility, so people are accustomed to spontaneous planting and crop rotations following the bandwagon effect. For example, in Chau Thanh (Hau Giang Province), there was a time when people collectively chop down orange orchards in rush to switch to Taiwan mango, Thai jackfruit, Taiwan guava, etc. One of several cases is the family of Mrs. Nguyen Thi Hong (67 years old, Tan Hung, Nga Sau, Chau Thanh, Hau Giang Province), which has 1.1 hectare of agricultural land but has rotated their crops 4 times for the past 6 years.
"Initially, I planted mango and pomelo, but when I noticed that jackfruit was valuable, I planted jackfruit intercropped with king orange. After a year, the jackfruit yielded fruits with rhizopus rot, so I had to chop down the jackfruit to grow a Taiwan mango and king orange afterward due to citrus greening disease. At this rate, I won't know which plant I will have to switch to," she complained.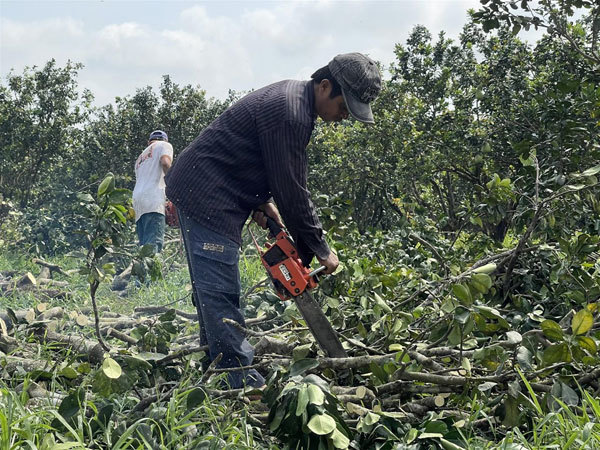 There are no farmers anywhere in the world who "plant and chop down, again and again" as in the Mekong Delta.
In reality, most farmers are not properly supported in cultivation and pest control to ensure commodity quality standards and stable outlet, leading to the phenomenon that farmers grow crops purely according to traders' demand and jump on the bandwagon to rotate to more valuable crops in the spot market. When the supply exceeds demand, the prices goes down, they continue chopping down current crops to rotate to the more valuable ones. This cycle just keeps going on and on without any exits.
According to experts, the European – Vietnam Free Trade Agreement (EVFTA) is opening more potential markets for Vietnam's agricultural products; from now, there should be an immediate plan to increase the competitive advantage of Vietnam's agricultural products, with focus, for the time being, on the Mekong Delta region. Specifically, promoting the crops quality improvement should go alongside the application of quality control technology, traceability, to meet strict quality standards, food hygiene and safety, besides the requirements on packaging, processing, export, storage, tariff barriers, finance, etc.
In offering the fundamental solution for the Mekong Delta's agricultural products, Prof. Dr. Vo Tong Xuan commented: "State agencies and enterprises need to provide market information, and help farmers in keeping with the demand and purchase orders; besides having suitable planning for production area depending on each region".
At the same time, there should be initiatives from organizations that provide commercial and exporting services of agricultural products. "The production of crops in small-scale with unstable quality and lack of application of science, technology, access to post-harvest preservation methods, and high transportation costs are the barriers that prevent Vietnamese crops in general and Mekong Delta's agricultural products in particular from approaching the markets, especially international markets. Meanwhile, there is barely any enterprises providing comprehensive services from cultivation to post-harvest preservation, transportation and finding output for crops. These are the concerns of not only the policy-makers but also the private enterprises like us, so that we must step into and create leverage for Vietnam's agricultural products breakthrough to reach their true potential" Mr. Pham Tien Hoai - Hanh Nguyen Logistics CEO, and Chairman of the Board of Tien Thinh Group, shared.
SGT

It is essential to promote sustainable development of the Mekong Delta in the direction of effectively adapting to climate change, 

Encouraged by the success of Ben Tre's coconuts, Long An, Dong Thap and An Giang provinces are considering plans to put their specialties on online for sale.