As many as 500 container trucks loaded with thousands of tons of farm produce, mostly dragon fruit, have been stuck at the border gate of Tan Thanh in Lang Son Province since October 15.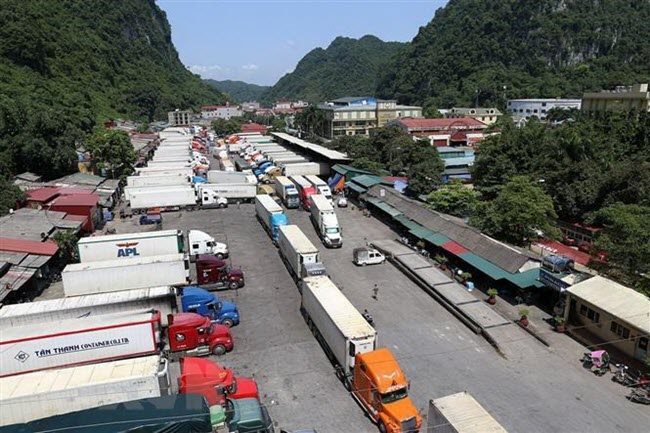 Many container trucks carrying fruit for export have been stuck at the Tan Thanh border gate in the northern province of Lang Son since October 15 
Tan Thanh border guard forces have teamed up with the local competent agencies to regulate traffic at the gate, allowing the cargo to be quickly processed through the border gate, reported VietnamPlus news site.
The cargo owners and drivers also wanted the congestion to be handled quickly.
Hoang Thi Thieu Hoa, deputy head of Tan Thanh Customs Agency, said that the stagnation was attributable to the large export volume backlog as the harvest season for dragon fruit has begun in the southern provinces.
Further, China recently tightened control over vehicles and products entering its territory. As a result, it now takes up to 10 minutes for each truck to be cleared by customs, instead of two minutes as before, resulting in a large number of vehicles being stuck at the border gate.
The provincial authority is working with the Chinese side to remove obstacles and create favorable conditions for shipments to get customs clearance. Besides this, local fruit exporters are advised to work closely with their business partners and quickly find appropriate solutions for their products. SGT