Floating solar panels may just be catching on in Vietnam, but they could be about to grab a huge slice of the country's renewable energy market.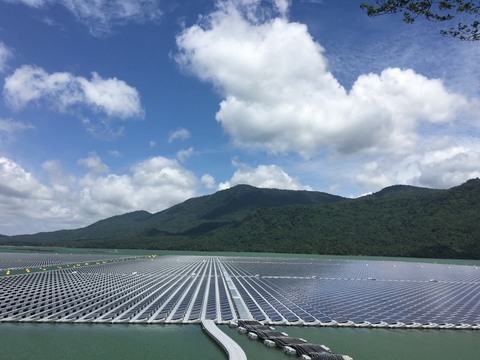 Solar panels are installed on the floating system on Da Mi reservoir. Viet Nam's first float solar farm in Binh Thuan Province was successfully connected to the power grid in May this year. — Photo courtesy of DHD/ADB
Solar energy, especially photovoltaics (PV), is developing fast globally, driven by technological advancements and the falling cost of solar cells and modules.
Most solar energy installations are either ground-mounted or on the rooftops of commercial buildings or private residences. Floating solar, the term used to refer to floating PV structure installed on water bodies, such as lakes, reservoirs, mining or irrigation ponds, is expected to become the 'next frontier' of the solar energy industry.
Viet Nam's first floating solar farm on Da Mi Reservoir was connected to the power grid in May this year. The VND1.2 trillion (US$51.5 million) plant, developed by Da Nhim-Ham Thuan-Da Mi Hydropower Joint Stock Company (DHD), has a total capacity of 47.5MWp (megawatt peak) and power output of about 70 million kWh per year.
The project features 143,940 solar panels on 50ha of the reservoir in Tanh Linh and Ham Thuan Bac districts of Binh Thuan Province. In the first phase, it is operating at a capacity of 20.5MWp.
According to Nguyen Trong Oanh, chairman of DHD, floating solar systems are similar to land-based solar power except the solar panels are installed on pontoon-type floats, with an anchoring and mooring system holding the platform in place.
Besides the advantage of using existing electricity transmission infrastructure at hydropower sites, eliminating the need for major site preparation, floating solar farms have been proven to bring higher energy yield thanks to the cooling effects of water and decreased presence of dust which hurts panel performance.
"Under the same solar radiation, floating solar installations will be more efficient than ground-mounted or rooftop solar power systems," Oanh told Viet Nam News.
Last week, Dong Nai People's Committee proposed the Ministry of Industry and Trade develop eight floating solar farms on the man-made Tri An Lake. Spanning more than 7,100ha of water surface across different districts in the province, these floating solar projects would have total capacity of 5,400MWp and be added to the national power development plan by 2025.
"The potential for floating solar is quite promising in Viet Nam, especially in existing hydropower reservoirs," Jackie B Surtani, Director of Infrastructure Finance Division, ADB Private Sector Operations Department, told Viet Nam News.
Surtani said ADB had conducted "quick look" satellite imagery surveys of Viet Nam's hydropower resources and found there would easily be room for several gigawatts of floating solar in existing reservoirs. Protected bays are a second possibility for floating solar and could allow for hundreds of additional megawatts.
Hybrid hydro-PV system
Since the first floating PV system was built in 2007 in Japan, the floating solar market has been well established in many countries, with China the largest player. However, the development of hybrid systems that combine hydropower and floating solar is still at an early stage.
"The combination of hydropower and float solar is definitely feasible," Surtani said.
Hydropower and solar can be co-located, with either floating or ground-mounted solar around a hydropower reservoir, he said, adding that using existing hydropower infrastructure reduces installation costs of the solar farm. Depending on daily demand, it is possible to reduce hydropower output during the day and bring it back up in the evening, with solar covering a portion of peak demand in the afternoon.
"The ADB-DHD floating project shows that the solar output can be coupled with hydropower output. In practice, hydropower output can be varied to smooth out or 'mask' the intermittency of solar output," he said, saying that blending hydro and solar output required an intelligent energy management system, and this technology is proven and currently being used in Viet Nam.
On the difficulties of developing Viet Nam's first hydro-floating solar system, Oanh said the project had received mixed feedback on its feasibility and efficacy.
"We've spent a lot of time researching, measuring radiation and environmental parameters, visiting similar works at home and abroad to support and prove the project's efficiency," Oanh said.
Since being put into operation in June, the performance of Da Mi solar power plant has been high thanks to the effective solar panels, which are naturally cooled by natural cooling surface temperatures, he said.
Project progress was also a major challenge. Oanh said to be able to sell electricity at 9.35 US cents/kWh, all solar power plants must be operational by June 30, 2019, thus the company rushed to complete the project and successfully run it commercially in early June, a month ahead of schedule.
He said the project was contributing to the development of the province by recruiting local workers, easing electricity shortages for the province and the southern region, as well as paying tax to the local budget.
The combination of hydro and solar power on the reservoirs could be a new direction in electricity in Viet Nam but challenges remain.
"In my experience, utilising hydroelectric reservoirs to install solar power platforms will be only effective for lakes with low water level fluctuations," Oanh said, adding that if water levels fluctuate greatly, the cost of the anchoring system would be very high.
Both local and foreign investors have shown interest in floating solar power in Viet Nam. Vietnam Electricity is considering building floating solar farms on lakes and reservoirs in Binh Thuan, Dong Nai and Gia Lai provinces.
Companies from South Korea and Norway have carried out surveys in Viet Nam, seeking partners to build floating solar power plants on lakes.
"The next phase of the renewable programme in Viet Nam should focus on leveraging private sector competition to reduce the cost of renewable energy generation. If this goes through an auction or some other mechanism, Viet Nam can benefit from lower generation costs," Surtani said.
Technology is moving fast and Viet Nam needs to catch up with the trend to rapidly transition to a green energy market.— VNS
Mai Huong
Power cut is a worry of many people during hot season.   

Foreign investors are expanding in the Vietnamese solar power sector via M&A deals or by establishing joint ­ventures with local players to save time as the commercial operation deadline for the ­coveted $9.35 cent feed-in tariff looms.  

Lured in by the feed-in tariff of 9.35 US cents for solar projects, investors are lining up for approval to generate gigawatts of power in the central provinces of Vietnam where solar irradiation is the strongest.