Illegally-imported sugar products have seriously affected the Vietnamese sugar sector which is facing numerous challenges.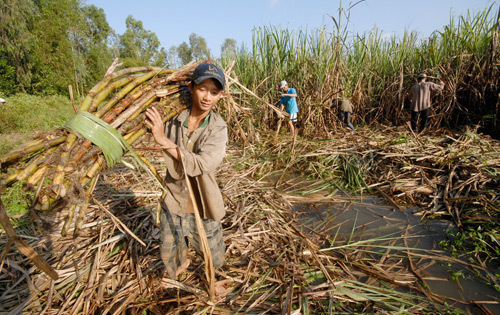 Illegally-imported sugar products have seriously affected the Vietnamese sugar sector which is facing numerous challenges
Truong Van Ba of the 389 National Steering Committee said that "the smuggling of sugar into Vietnam is increasing and becoming more sophisticated. It comes mainly from Thailand through Cambodia and the border gates in the south-west."
Between the start of 2018 and June this year, authorities dealt with more than 876 cases of smuggling, seizing more than 3,000 tonnes of sugar worth over VND12.5 billion (USD518,500) and collecting over VND1 billion (USD43,000) in fines, he said.   
Cao Anh Duong, acting chairman of the association, said demand for sugar is around 1.5 million tonnes a year and local sugar mills would produce 1.2 million tonnes this year.
Around 800,000 tonnes of sugar are smuggled in every year, putting huge pressure on local producers, Duong added.
Head of Vietnam General Department of Customs Nguyen Van Can, said that the sugar smuggling is partially attributed to lax management of many border localities such as An Giang, Long An and Tay Ninh provinces.
To deal with the problem, the National Steering Committee 389 will co-operate with the provinces for boosting border economic development to help generate more jobs for local residents.
Ba suggested that the government should require all sugar to carry point of origin details to keep out contraband. It should also amend the Law on Investment to include sugar production and packaging in the list of businesses that have to meet certain specific conditions.
Authorities should also penalise smugglers more severely and not auction seized contraband but should sell it to sugar mills.
Challenges ahead
The domination of the sugar import has severely hit local sugar firms. Between July 2018 and June 2019, Kon Tum Sugar JS Company made an after-tax profit of just VND4.5 billion out of the total revenues of VND333.24 billion compared to the set target of VND6.64 billion and VND763.5 billion respectively.
Son La Sugar JS Company is the same situation as it has decided to reduce its revenues and after-tax profit target by 2% and 6% respectively from July 2019 and June 2020 compared to the previous crop.
From January 1, 2020, the implementation of ASEAN Trade in Goods Agreement (ATIGA) will allow more regional sugar to be imported into Vietnam. This would bring more pressure for local sugar firms as well as sugarcane farmers in Vietnam.
Up to 22 sugar plants which have capacity of less than 3,000 tonnes per day would face bankruptcy for failing to compete.
Vietnam Sugar and Sugarcane Association has proposed the government to postpone the ATIGA implementation for 3-5 years to save the domestic sugar sector.
However, Deputy Minister of Industry and Trade Tran Quoc Khanh said that the ATIGA implementation delay is impossible as Vietnam has to ensure the country's international commitments.
Khanh noted that the ministry will take drastic measures to fight against sugar smuggling more effectively.
dtinews.vn, Danviet, VNS

Some sugar refineries have had to stop their operations. Others that have made big investments are not sure about their fates.

Currently, the country still has about 650,000 tonnes of sugar on inventory, the industry's highest so far, resulting in 17 out of 36 sugar production factories losing money.