The price of domestic industrially-farmed chicken in October fell 30 per cent compared to the same period last year, while the volume of imported chicken products doubled in the first 10 months.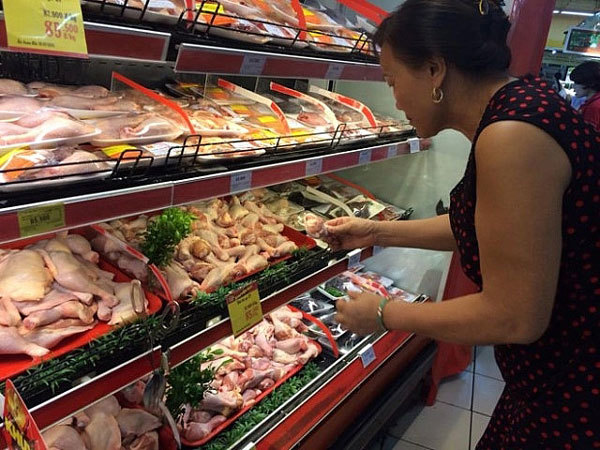 A consumer chooses chicken at a local supermarket in Hanoi. The price of domestic industrially-farmed chicken has fallen since imports increased. — Photo tieudung
However, the Ministry of Industry and Trade (MoIT) said chicken imports were not the main cause of the lower prices.
The General Department of Customs calculated that Vietnam imported 215,700 tonnes of chicken products worth US$186 million in the first nine months of the year, up 49 per cent over the same period in 2018.
The MoIT said the imported products were mostly from the US (61.8 per cent), Brazil (13.1 per cent) and South Korea (12.3 per cent).
The average import price was US$861 per tonne, or VND19,500 (less than $1) per kg. Meanwhile, domestic industrially-farmed chicken in the southeast of Vietnam, as the hub of poultry products, ranged from VND25,000-25,500 ($1.08-1.1) per kg.
The ministry calculated that compared to the same period last year, the price of local chicken products was 30 per cent lower. However, it still increased compared to the middle of September when the price fell to VND16,000-18,000 ($0.7-0.8) per kg.
In 2016, Vietnam imported more than 122,000 tonnes of chicken products, the numbers were 85,500 and 128,000 tonnes in 2017 and 2018, respectively.
According to the MoIT, in 2019, chicken imports increased from April to June to make up for a shortage of domestic pork supply due to African swine fever. However, imports have decreased since June.
Import product is not the main cause
According to the Animal Husbandry Association in Southeast Vietnam, many pig raisers turned to industrial farmed chicken when African swine fever spread earlier this year, increasing the poultry flock. This could have caused the sharp decline in local prices during August and September, said the association.
Therefore, the MoIT said imports of chicken meat could have had a partial impact but was not the main cause of negative impacts on the domestic livestock industry.
The MoIT asked the Ministry of Agriculture and Rural Development to continue monitoring husbandry and to restructure the livestock industry to avoid both shortage and oversupply.

The Vietnam Poultry Livestock Association, which met late last week, expressed its concern about the massive imports of chicken, saying that it will kill the domestic husbandry industry.
VNS