The United Nations Development Program (UNDP)-supported business model makes both 'social' and business sense.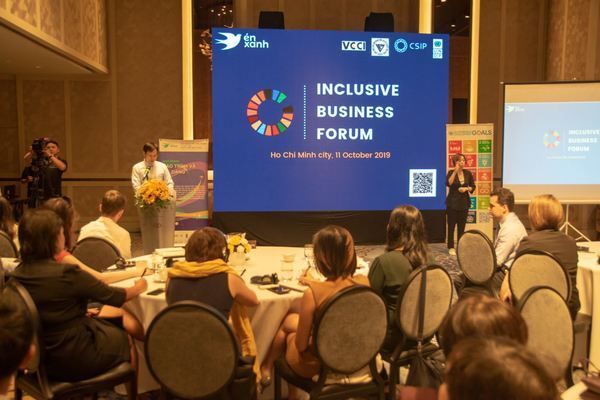 Representatives from UNDP, businesses, civil society, international organizations. Photo: UNDP
Inclusive business which integrates diversity and inclusion into companies' operations enables businesses in Vietnam to tap into a pool of new talents and innovative ideas to keep up with rapidly changing markets.  
The society-like business model supported by the United Nations Development Program (UNDP) doesn't just make 'social' sense to promote diversity and inclusion, it also makes business sense. 
The business philosophy has received support from business leaders, representatives of civil society, international organization and consumers at the Inclusive Business Forum in Ho Chi Minh earlier this month.
They have common understanding that inclusive business combats discrimination in both the workplace and society, while continuing to grow the business with a diverse workforce, regardless of their background, sexual orientation, gender identity, or being differently abled. 
Research shows that more inclusive companies are likely twice total shareholder returns than their peers, on average. Additionally, companies that have become more inclusive over time are four times more likely to have total shareholder returns that outperform those of their peer group. 
When it comes to profitability and value creation, these companies achieved 28% higher revenue, double the net income and 30% higher economic profit margins over the four-year period on average. 
Challenges 
Despite the global promotion of Diversity & Inclusion, many challenges persist in Vietnam in creating a culture of inclusion in business. 
A study conducted by Institute for Studies of Society, Economy and Environment (iSEE) and UNDP in 2016 found that around 30% of Lesbian, Gay, Bisexual, Transgender and Intersex (LGBTI) respondents in Vietnam reported being denied employment based on sexual orientation and gender identity.  
Furthermore, in Ending Stigma 2018 report, 66% of persons with disabilities respondents stated they had never even taken a job interview, and 54% reported that they had been denied a job because they had a disability. 
"UNDP believes in leaving no one behind, that is the best and the only way forward to achieving sustainable development and protecting our single planet," said Dao Xuan Lai, UNDP Assistant Resident Representative in Vietnam. 
"Many Vietnamese businesses are already greening their investments, generating decent jobs, creating opportunities to reduce inequalities in the workforce and challenging stereotypes, including for Persons with Disabilities and LGBTI persons. The Inclusive Business Forum provides a space to recognize and promote these leaders in business," he said. 
Managers and business leaders of multinational corporations, Vietnamese businesses, SMEs discussed at the forum the challenges and solutions associated with integrating diversity and inclusion into business operations, and to explore potential areas of collaboration for future endeavors.
Leading businesses such as Accenture, Baker McKenzie, KPMG, S.A.P. and IKEA, have adopted new global standards to tackle discrimination against LGBTI people, taking human rights-based approach in being a responsible business.
"Vietnam can only meet its potential if everyone is part of the story," said Warrick Cleine, Chairman and CEO of KPMG in Vietnam and Cambodia. This means businesses must create a positive, inclusive and diverse experience, he added.
The forum is part of the Én Xanh – Blue Swallows program, co-organized by the Center for Social Initiatives Promotion (CSIP), UNDP; Vietnam Chamber of Commerce and Industry (VCCI), and the Vietnam Union of Science and Technology Association (VUSTA). Hanoitimes
Linh Pham

Dr Tran Cong Thang, director of the Institute of Policy and Strategy for Agriculture and Rural Development, speaks to Countryside Today newspaper about Vietnam's efforts to promote local products in international markets.
Many kinds of local green cosmetics brands have been introduced recently, meeting women's needs for beauty care in HCM City.