The Indian corporate sector has a growing interest in investing in and doing business with Vietnam. They are investing in many sectors, including solar energy.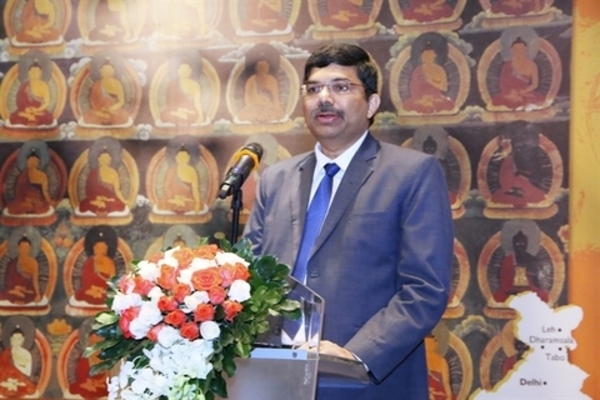 K Srikar Reddy, the Indian consul general in HCM City.
Dr. K Srikar Reddy, the Indian consul general in HCM City, talks about the investment by Indian companies in solar energy in Viet Nam and what Viet Nam should do to attract investors.
How do you see the potential of solar energy in Viet Nam?
Viet Nam, being a tropical country with around 1600 to 2700 hours of sunlight every year, has huge potential to develop solar energy, especially in the south-central and southern [regions].
According to recent reports, Viet Nam's economy will continue to grow between 6.5 per cent and 7.5 per cent a year until 2030, and requires around 90,000 MW and 130,000 MW of power by 2025 and 2030 respectively.
Viet Nam will benefit immensely by developing its vast potential of several hundreds of GW of renewable energy, especially solar energy, as it will help reduce dependence on fossil fuels, reduce pollution, protect people's health, create employment, and ensure sustainable development.
Many Indian companies have invested in the sector here. How has their experience been?
In July 2018 India's Shapoorji Pallonji Infrastructure Capital Company Ltd. signed the first solar power purchase agreement in Viet Nam with the Electric Power Trading Company, an arm of Electricity of Vietnam, for its 50MW SP Infra 1 Solar Power Plant in Ninh Thuan Province.
India's Adani Group in collaboration with Viet Nam's TSV group is developing a 50MW solar power plant 1 and a 27MW wind power plant in Ninh Thuan. After completion of phase 1, both Indian companies will proceed with developing phase 2 of the solar projects.
Proposals for development of renewable energy projects by Indian companies such as Adani Energy, Shapoorji Pallonji Infrastructure Capital Company, Tata Power, and Hero Future Energies in many provinces are at various stages of consideration by the provincial and national authorities.
Moreover, many Indian companies specialising in EPC (engineering, procurement & construction) work are looking for opportunities to execute renewable energy projects in Viet Nam.
Sterling and Wilson Ltd recently completed EPC work for a 100MW and a 168 MW solar energy project in An Giang and Ninh Thuan provinces respectively. It is also operating and maintaining the two plants.
How do you foresee further investment from India in the renewables sector in Viet Nam, especially solar energy?
Renewable energy has been identified as a priority area for co-operation by the leadership of the two countries. The Government of India under the direction of Prime Minister Narendra Modi set an ambitious and the world's largest renewable energy capacity expansion programme.
India plans to develop 175GW of renewable energy capacity by 2022 with 100GW of solar power, 60GW of wind power and 15GW from bio and small hydropower plants. As of July 2019 India's cumulative installed renewable energy capacity was 81GW including 30GW of solar energy and 37GW of wind energy. India is on course to achieve its ambitious target of 175 GW by 2022.
The Indian companies, which have developed world-class expertise by executing renewable energy projects in India, are very keen to invest in wind, solar and hybrid projects in Viet Nam.
Many Indian companies have submitted proposals for developing solar plants in many provinces in Viet Nam like Ninh Thuan, Binh Thuan, Binh Phuoc, Phu Yen, Ben Tre, Soc Trang, Gia Lai, Lam Dong, and Kon Tum. Altogether, Indian companies are interested in developing 3-4GW of renewable energy in Viet Nam.
Is the current electricity price policy attractive enough to attract investors? What would you suggest to make the sector more attractive to investors, especially Indian?
The feed-in-tariff of 9.35 US cents per kWh for solar projects (until June 2019) and feed-in-tariff of 9.8 US cents and 8.7 US cents per kWh for offshore and onshore wind projects respectively are attractive for Indian investors.
The other special incentives provided by Viet Nam for investment in the renewable energy sector such as corporate tax preferences, import-duty preferences, and land-related incentives are also attractive for the Indian investors.
Indian companies are also anxiously waiting for the new feed-in-tariff scheme for solar projects that will be effective from July this year.
India has transited from a feed-in-tariff regime to tariffs based on transparent bidding for renewable energy. Indian power companies have experience in executing auction-based solar and wind projects in India with tariffs of under 5 US cents per kWh.
India was able to achieve the low tariffs due to various policy measures, including guaranteed offtake of power, large scale of projects, reduced EPC costs, and availability of concessional finance.
According to reports, there is a concern about the capacity of the current grid and transmission infrastructure in Viet Nam, especially in provinces such as Ninh Thuan and Binh Thuan, where there has been a surge in renewable energy projects in recent years.
Indian investors are worried that they have to now operate below their capacity due to insufficient transmission infrastructure. To augment the transmission system for evacuation of large-scale renewable energy, Viet Nam could consider developing high-voltage transmission lines similar to the 'green energy corridor' in India. — VNS