The Vietnam Cashew Association wants the Ministry of Agriculture and Rural Development to draft national technical regulations for raw cashew nuts so that processors can ensure the quality of imported raw material.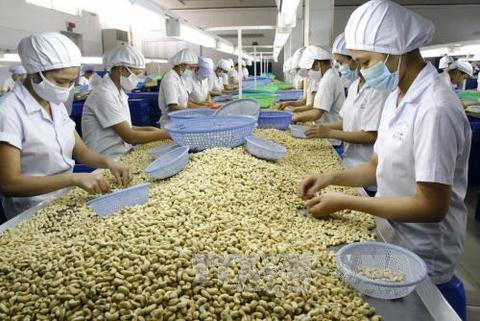 Cashew nuts being processed at a factory in Binh Duong. Due to the heavy reliance on raw cashew imports to meet processors' demand, the industry has petitioned the Ministry of Agriculture and Rural Development to soon promulgate a national technical standard for raw cashew.
In a communication to the ministry, it said last year processing companies imported nearly 1.6 million tonnes of raw cashew.
"Therefore, the quality of imported raw cashew nuts is a very important factor that decides the efficiency of production and trading, the quality of finished products and the reputation of every Vietnamese business as well as Viet Nam's cashew industry as a whole globally."
The country imports cashew from many countries, and there have been many problems related to recovery rate, moisture content, number of kernels per kilogramme, deformed nuts, and foreign matters affecting quality, it said.
"To ensure quality and food safety and hygiene, it is necessary to have national technical regulations for raw cashew nuts since this will be a legal basis for Vietnamese companies when negotiating contracts with foreign suppliers and for [resolving] trade disputes."
It would work closely with the ministry and other relevant agencies to quickly develop the regulation and actively assist in the implementation process, Pham Van Cong, chairman of the association, promised.
Last year the agriculture ministry and the Ministry of Science and Technology promulgated the Viet Nam National Standards (TCVN12380:2018) for raw cashew nuts.
TCVN12380:2018 apply for the inspection, evaluation, and classification of imported raw cashew and in dispute resolution.
Vinacas encourages its members to apply it when negotiating, signing and implementing contracts.
Viet Nam exported about 450,000 tonnes of cashew nuts worth US$3.6 billion last year, retaining its position of the world's largest cashew processor and exporter.
The sector aims to earn $4 billion in exports in 2020. — VNS

Vietnam's cashew exports in 2019 are expected to top US$3.6 billion, according to the Viet Nam Cashew Association (Vinacas).
c

Vietnam's cashew sector aims to earn 4 billion USD in export turnover in 2020.