Vietnam's joining of the Comprehensive and Progressive Agreement for Trans-Pacific Partnership is expected to boost the country's exports, and give the private sector more opportunities for growth.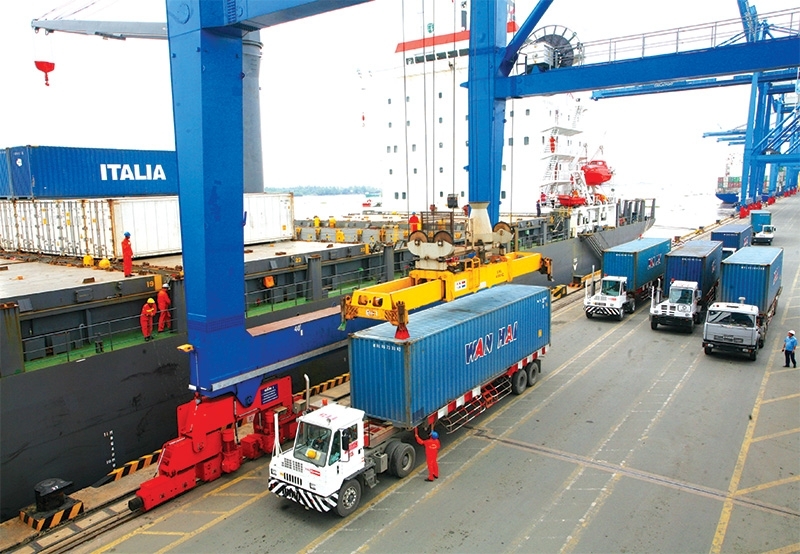 The CPTPP has generated explosive trade growth with new markets
Deputy Minister of Industry and Trade Tran Quoc Khanh last week said that since the Comprehensive and Progressive Agreement for Trans-Pacific Partnership (CPTPP) officially came into force in Vietnam on January 14, the country's export turnover towards the bloc's member states has climbed impressively.
In the first three months of this year, Vietnam's export turnover to CPTPP member countries ascended by 22.5 per cent on-year, including 90 per cent to Canada and ­Mexico, higher than the ­average 5.8 per cent rise in the export turnover of the entire country.
At the discussions on the CPTPP for breakthrough development held within last week's Private Sector Economic Forum 2019 in Hanoi, Khanh said that there are good vibes from the CPTPP, particularly from Canada and Mexico. Some 90 per cent of the total 500 certificates of origin granted by the Ministry of Industry and Trade (MoIT) in the first three months allowing enterprises to enjoy tax incentives for goods exported to the CPTPP were for goods exported to Canada and Mexico.
"This shows that the CPTPP is opening up huge opportunities and potential for Vietnamese exports," Khanh stressed. "In the bloc, ­enterprises will benefit from the removal of 78-95 per cent tax lines by 11 member ­countries for goods like ­furniture, footwear, textiles or seafood."
According to the MoIT, the CPTPP will have comprehensive, positive impacts on Vietnam's investment and trade as a whole, with the garment, footwear, food and beverage sectors to be the biggest beneficiaries, because the majority of import taxes in these sectors will be reduced to 0 per cent.
Currently, Vietnam's garment and textile export turnover towards Australia, Canada, Mexico, New Zealand, Chile, and Peru, despite high import tax, always stand over $40 billion a year, which is 3.5-times higher than toward the US, and 11 times higher than towards the EU.
However, one of the toughest obstacles for Vietnam-based enterprises to benefit from tax reductions and cuts under the CPTPP is that they are required to ensure the rules of origin (ROO) for their goods.
Specifically, export products must have their materials produced within the CPTPP. Meanwhile, as much as 60 per cent of the raw materials for Vietnamese export products are now from non-CPTPP markets such as China, Taiwan, Hong Kong, and South Korea. Within the CPTPP, it is required that the "yarn forward" ROO must be obeyed to ensure product quality, competitive prices, and good services.
BOOST FOR THE PRIVATE SECTOR
Vu Tien Loc, chairman of the Vietnam Chamber of Commerce and Industry (VCCI) said that the CPTPP helps Vietnam eliminate 65 per cent of taxes. "This is a great significance for service and manufacturing businesses," said Loc. "With the CPTPP, whether the ­manufacturing industry can overcome past obstacles or not depends on the recognition of such obstacles to in order to realise aspirations of enterprise."
Tran Bao Ngoc, director of the Department of ­Transportation under the ­Ministry of Transport (MoT) said that the CPTPP has a large-scale impact on ­Vietnamese sectors, including transport. "The CPTPP helps create a competitive environment and improve service quality. It also creates the pressure of competitiveness, which facilitates enterprises to renovate themselves and ­become highly competitive next to foreign ­rivals," Ngoc said.
According to Ngoc, the MoT has implemented a plan to improve national competitiveness, promote transport ­infrastructure, and actively support businesses to understand the business climate.
"Vietnamese transport enterprises, particularly those ­providing aviation and ­maritime services, need to ­improve their service and competition strategies," he added.
Meanwhile, Tran Quang Hao, director of sports item maker MXP JSC, said that under the CPTPP, modern business methods are very important to help his company in particular and private sector in general to better grasp the deal's opportunities. "MXP is currently one of the few Vietnamese enterprises producing and exporting garments at freight on board (FOB) prices," Hao said.
According to MXP, the value of "cut, make and trim" or CMT, a term used by clothing manufacturers and factories, usually accounts for about 15 to 25 per cent of the FOB value. Therefore, within the CPTPP, if companies can shift their business model from CMT to FOB, their profit and added value will greatly increase.
However, according to Deputy Minister Khanh, since the CPTPP took effect, "most domestic enterprises still have not yet fully understood the content of it and are unsure what to do to take advantage of the CPTPP."
"The CPTPP has brought competitive pressure but the biggest challenge for enterprises is that they must renew themselves, changing from passiveness into activeness," Khanh said. "The government will accompany enterprises, but their proactiveness in seizing opportunities and weathering challenges is also necessary. This will determine the success or failure of enterprises through the CPTPP."
According to Vu Kim Hanh, general director of the Centre of Business Studies and Assistance, each city and province nationwide should have a taskforce to help private companies understand the agreement, as well as support them during the process of making full use of the CPTPP.
"I highly appreciate Canada as this nation has a portal with full and detailed information about the CPTPP. That's what we should seriously learn from countries such as these," she said. VIR