While the gold price in the world market is falling sharply, the domestic price keeps rising, with the gap between prices hitting VND11 million per tael.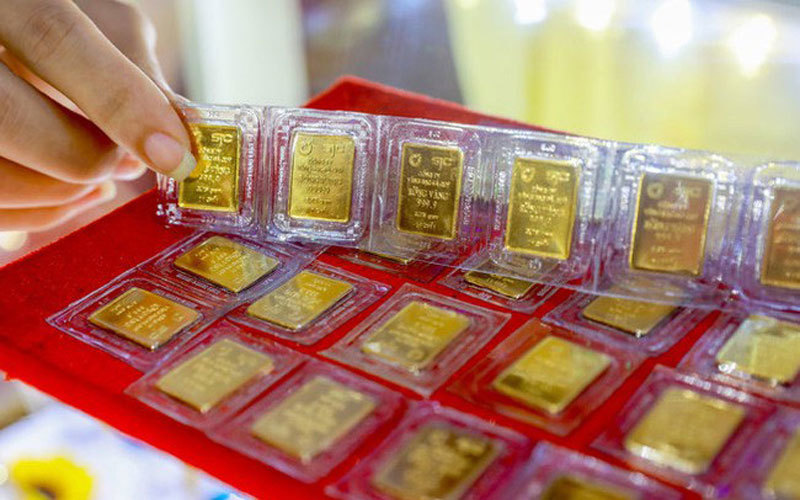 After a period of increases since late September, the world gold market earlier this week began a new period of less active trading with prices falling.
After sliding by $40 on November 22, the gold price once again dropped sharply on the next day. On November 23 (Vietnam time), the spot price hovered around $1,786 per ounce, while the December delivery price on Comex New York at $1,788, the deepest low area in the last three weeks. If compared with early 2021, the gold price on November 23 was 5.8 percent ($109 per ounce) lower.
On November 24, the price slightly increased, but did not exceed the $1,800 per ounce benchmark.
If compared with one week ago, the gold price decreased by $80, which means a net decrease of 4 percent after one week.
The international price plummeted amid the strong rise of the greenback and the US Treasury bond yield. Experts believe that the worry about FED's new action with the monetary policy also caused the gold price to decrease.
While the world price is on the decrease, the domestic price keeps an upward trend, thus widening the international and domestic price gap.
On November 24, the domestic price unexpectedly recovered and exceeded the VND60 million per tael threshold. As of 2.30pm of the day, the price soared by VND400,000 compared with early in the morning.
9999 gold was traded by Doji Group at VND59.40 million per tael (buy) and VND60.1 million (sell) in Hanoi. Meanwhile, SJC gold was traded at VND59.55 million and VND60.27 million per tael, respectively.
SJC gold last week exceeded the VND62 million per tael threshold and then decreased. Gold bullion returned to the over VND60 million per tael threshold, while the world price is just equal to VND49 million per tael. The VND11 million per tael gap, or 20 percent, is the largest so far.
Meanwhile, the gold ring price has been falling continuously in the last trading sessions, but the domestic price is still VND3 million, or 6 percent, higher than the world price.
Domestic prices were usually higher than the world prices in previous years, but the price gap was no more than 10 percent. So the current 20 percent is a surprise.
Analysts attribute this to short supply and high demand for hoarding gold as an asset. Gold shops in Vietnam reopened after lockdown, but the market is still gloomy. 
Anh Tuan

The gold price in the world market has decreased by 13 percent this year, causing Vietnamese to lose billions of dollars. Meanwhile, the domestic price has stayed high.

Recently, the cash flow has poured massively into the stock, gold, and real estate markets. Investors call this phenomenon cheap money, but it also raises concerns over inflation for the economy.