High inventories were attributable to sluggish construction that was caused by legal loopholes.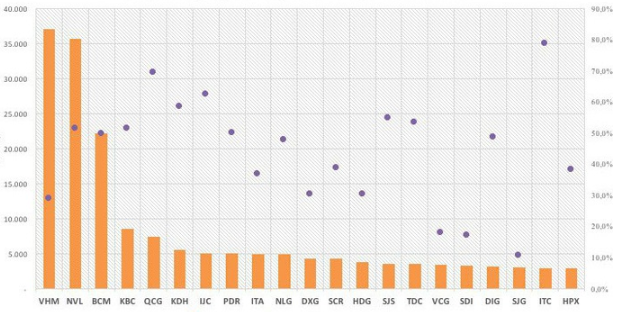 Inventories at 20 listed companies (the rate of inventories on equity/unit: VND trillion). Photo: VnEconomy
The unsold value of real estate at 20 companies in Vietnam was roughly VND174.7 trillion (US$7.4 billion) as of the end of March 2019.
Inventories from this group of 20 rose 10% from the beginning of the year, VnEconomy has reported.
In terms of unsold value, Vinhomes (coded VHM) – a member of Vietnam's biggest private conglomerate Vingroup – posted the largest amount of around VND37 trillion (US$1.6 billion), followed by Novaland (NVL) with VND35.7 trillion (US$1.55 billion), and Becamex (BCM) with VND22 trillion (US$950 million).
Meanwhile, Hai Phat Investment JSC (HPX) recorded the sharpest rise in the inventories with an increase of 150% within three months, or from VND1.74 trillion (US$75 million) in January to VND2.89 trillion (US$125 million) in March.
Nam Long Group (NLG) saw an increase of 50% in the inventories which reached VND4.89 trillion (US$21 million) at the end of the first quarter.
Surprisingly, inventories as per equity were high. Accordingly, the rate of inventories out of equity at Intresco (ITC) was about 79% with VND2.9 trillion (US$126 million) worth of unsold real estate, followed by Quoc Cuong Gia Lai JSC (QCG) with 69.4%, and Becamex Infrastructure Development Joint Stock Company (IJC) with 62.5%.
Sluggish construction was attributable to the high inventories, VnEconomy reported, adding that the legal loopholes have caused stagnant construction progress at a number of projects.
High unsold value coupled with high interest rates has put some property developers in difficulties, according to the economic newswire. Hanoitimes
Linh Pham