Although the novel coronavirus epidemic COVID-19 has been continuously slamming the stock market, sending stock prices down, many investment funds are still actively buying.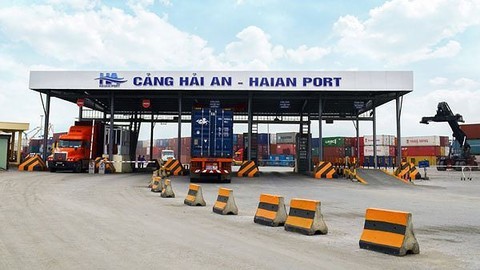 Hai An Port, run by Hai An Transport & Stevedoring JSC (HAH) in the northern province of Hai Phong. America LLC has bought 40,800 shares of Hai An Transport & Stevedoring JSC (HAH), raising the ownership rate to 6.04 per cent. — Photo tinnhanhchungkhoan.vn
Since the beginning of 2020, most funds have witnessed net asset values shrinking, especially those holding a large proportion of mid-cap and small-cap stocks, as these groups have seen prices fall substantially.
Since early this year, these two groups saw stock prices drop by 3.42 per cent and 5.51 per cent respectively, while large-cap stocks fell 1.05 per cent. The benchmark VN-Index alone lost by 2.5 per cent.
America LLC still bought more stocks with a specific focus on small and mid-cap stocks. The fund has purchased 18,000 shares of Haiduong Mineral Eineal Processing JSC (KHD), increasing its holdings in the company to 234,360 units, corresponding to the rate of 7.18 per cent.
It has also bought 40,800 shares of Hai An Transport & Stevedoring JSC (HAH), raising the ownership rate to 6.04 per cent; buying 4,540 shares of Binh Dinh Minerals Joint Stock Company (BMC), raising the ownership rate to 9.01 per cent; buying 19,440 shares of Construction Investment Corporation 3-2 (C32), raising the ownership rate to 12.12 per cent.
Other stocks also acquired by America LLC since the beginning of 2020 included DIC Investment & Trading Joint Stock Company (DIC), Hung Thinh Incons Joint Stock Company (HTN) and ACC Binh Duong Investment and Construction JSC (ACC).
KITMC Worldwide Vietnam RSP Balanced Fund, a member fund of Korean Investment Management (KIM), has become a shareholder of An Gia Real Estate Investment and Development Corporation (AGG) after purchasing 300,000 AGG shares last month, increasing the ownership rate in AGG to 0.4 per cent.
The other two funds of KIM are also holding a total of 6.67 per cent of AGG. After the transaction, the KIM member funds have increased their holding in AGG to 5.3 million shares, equivalent to 7.07 per cent of ownership.
In addition to adding more AGG shares into their portfolios, the funds have recently also sold shares in Coteccons Construction Joint Stock Company (CTD), Dat Xanh Group JSC (DXG) and Hoa Binh Construction Group JSC (HBC). These funds seem to restructuring their portfolio for real estate stocks.
KIM is known as one of Korea's leading fund management companies, with many large member funds such as KIM Vietnam Growth Equity Fund, KITMC Vietnam Growth Fund, KITMC Worldwide Vietnam RSP Balanced Fund. In particular, KIM Vietnam Growth Securities Master Investment Trust is KIM's largest fund in Vietnam, with a portfolio of over US$850 million.
According to an announcement of the State Securities Commission released last week, all shareholders of Hung Viet Fund Management JSC have transferred 2.5 million shares, equivalent to 100 per cent of charter capital, to KIM. After the transfer, Hung Viet has officially become a wholly foreign-invested fund management company. The value of this deal has not been revealed.
AFC Vietnam Fund has recently purchased 400 shares of Mechanics Construction & Foodstuff JSC on January 30, increasing the holding to 647,053 units, equivalent to ownership rate of 6 per cent.
At present, AFC is investing in 59 companies, holding only 4.9 per cent of cash and cash equivalents. The most favoured stock included industrial sector, accounting for 32.8 per cent of the portfolio, consumer goods, 29.7 per cent. By the end of February 2020, the fund will have managed estimated assets of $37.2 million.
PVI Opportunity Investment Fund (POF) has recently announced its purchase of 3.9 million shares of Vinaconex Power Development & Contrustion Investmen JSC (VCP), increasing the holding rate to 13.9 million shares, equivalent to 24.39 per cent ownership.
The transaction was performed on February 10, valued at more than VND212 billion ($9 million). After the acquisition, POF has become the second largest shareholder of VCP, after the Viet Nam Construction and Import-Export Joint Stock Corporation (Vinaconex).
At the end of 2019, Vinaconex revealed the plan to divest all of its 16 million at VCP, corresponding to the ownership rate of 28.02 per cent.
POF is the first closed-end fund of PVI Fund Management Company, established in October 2015 with a term of five years. The fund raised capital from PVI member companies and other businesses with chartered capital of VND1 trillion ($42.9 million).
At the extraordinary General Meeting of Shareholders on February 14, VCP submitted to shareholders for approval the listing of nearly 57 million shares on the stock market, with listing time scheduled in the second or third quarter this year.
VCP stock is currently being traded on the Unlisted Public Company Market (UPCoM), closing Wednesday at VND52,000 per share. It has increased more than 60 per cent in the past year. — VNS

Following a volatile 2018 which witnessed the US-China trade war, the stock market in 2019 was gloomy with the VN Index hovering around 900-1,000 points.

The VN Index may bounce back and reach the 1,000 point threshold again in 2020, or it may come closer to its peak in 2018 thanks to good macroeconomic conditions, foreign capital flow and reasonable valuations.