Vietnam's internet economy will soon have the scale of $43 billion, and new technology unicorns are expected to appear in the country, according to Do Ventures, a venture fund targeting startups in Vietnam and Southeast Asia.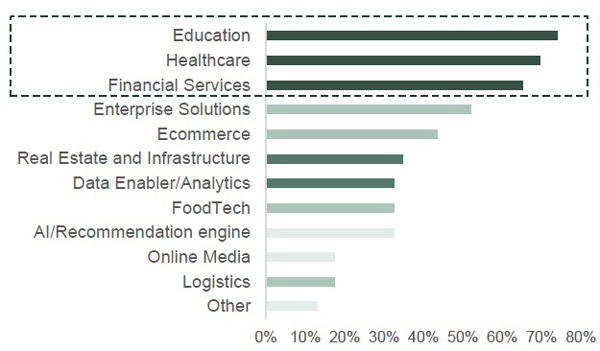 The business fields investors are targeting are education, healthcare and finance
Do Ventures, in its report on the investment potential in Vietnam's technology sector based on data in 2019 and the first months of 2020, noted the rapid expansion of the middle class and the number of internet users. Because of Covid-19, more Vietnamese began to use online services, including non-cash payment methods.
With the rapid development of e-commerce, logistics supply for the business field has also increased rapidly with the appearance of 40 forwarding companies.
In 2019, Vietnam's technology startups received $861 million in capital from 123 investment deals. However, in early 2020, the capital injected into the field fell sharply to $284 million in Q1, a decrease of 22 percent from one year before.
Vietnam received 109 investors in the technology sector in 2019. In the first half of 2020, only a modest number of new investors joined the market. Instead, the investments last year mostly came from domestic companies and foreign investors who had worked in Vietnam.
In general, the attention paid by technology investors to the Vietnamese market is still high. According to Do Ventures, 50 investment funds in the six strongest economies in Southeast Asia are casting their attention to Vietnam in the next 12 months, and to Indonesia.
The business fields they are targeting are education, healthcare and finance.
Technology investors are choosing Vietnam because they see better opportunities there than in other markets. Besides, they also see favorable macro conditions, demographics, and great growth potential because of the rapid consumption increase and undervaluation during the pandemic.
Vietnam now ranks third in Southeast Asia in the number of internet users, third in mobile penetration rate, and second in average speed of mobile internet.
The Do Ventures report also praised Vietnam's telecom industry as its three large mobile network operators, namely Viettel, VNPT and MobiFone, are trying to commercialize 5G.
The popularity of the internet helped increase the value of the Vietnam internet economy to $12 billion in 2019, while the figure is expected to reach $43 billion by 2025.
In the 2009-2012 period, Indonesia, the largest economy in the region, had 63 million internet users. This period witnessed the appearance of technology unicorns such as Tokopedia, Bukalapak, GoJek and Traveloka.
With 64 million internet users, Vietnam is expected to be at the same turning point where Indonesia was seven years ago, and is expected to produce new technology unicorns for ASEAN. 
Trong Dat

Vietnam's internet economy has advanced by 39% annually since 2015 and is currently the second fastest-growing in Asia, with 68 million internet users in the country in 2020 and the figure is expected to reach 75.7 million by 2023,

National radio broadcaster Voice of Vietnam (VOV) on Friday launched VOV Live – a digital platform that offers users unlimited access to the diversified content produced by VOV,