A stronger focus on the quality of the foreign investment inflow is even more urgent when its links with and the spillover effects on domestic industry fall short of expectations.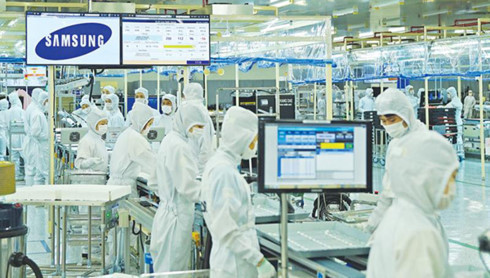 Vietnam should lure more foreign investment in the R&D industry
While Vietnam has been emerging as one of the most attractive destinations to foreign investors and is expected to see something of a boom in foreign investment this year, the country should keep a big focus on the quality of the inflow, experts said.
Vietnam has attracted 26,500 FDI projects from 129 countries and territories in the last 30 years, with total capital standing at US$350 billion. After luring US$35.46 billion last year, foreign investment in Vietnam continued to hit a four-year record high in the first four months of 2019 with US$14.59 billion, up 81 percent year-on-year.
With the impressive results, buoyed by the country's free trade agreements, close proximity to major global supply chains, high economic growth potential and the government's success in improving the investment environment, experts believe the country now needs to shift focus on quality instead of quantity.
According to Kyle Kelhofer, country manager for Vietnam, Laos and Cambodia of the World Bank's International Finance Corporation (IFC), most FDI projects in Vietnam are still focused on manufacturing and should be shifted to high added value sectors such as finance, and research and development (R&D).
In the new context, Vietnam's existing advantages in attracting FDI will be gradually diminished, requiring a new approach in next-generation FDI attraction with better corporate governance, highly-skilled workers, and higher quality standards, Kelhofer said.
According to Kelhofer, a stronger focus on the quality of the foreign investment inflow is even more urgent when its links with and the spillover effects on domestic industry fall short of expectations.
Sharing the same view, Young-sup Joo, former minister of Small-and Medium-Sized Enterprises and Startups of South Korea, said Vietnam should focus on attracting FDI in R&D.
Nguyen Anh Duong from the Central Institute for Economic Management was also concerned about the quality of the foreign investment inflow and urged the government to select appropriate partners and focus on sectors with potential and advantages, saying Vietnam doesn't want to see a scenario where the country attracts more investment and achieves an increase in exports, but local firms only earn a small share of the profits.
Big changes
The government has so far decided to give top priority to quality FDI inflows, in a move to trigger spillover effects in domestic industry. Minister of Planning and Investment Nguyen Chi Dung has firmly stated that Vietnam will no longer seek FDI at any cost.
Disbursed capital increased last year while commitments were down, indicating that the government is indeed determined to achieve sustainable economic development and has prioritized high-tech projects and those causing less environmental pollution, Dung said.
The government is also seeking to lure large projects of transnational corporations that are strong enough to promote the development of the domestic economic sector and support industries by connecting FDI enterprises with domestic partners, he added.
The government's FDI selective approach has so far also brought initial results as the country has seen more high-tech foreign investors, including big corporations such as US-based aircraft components manufacturer Universal Alloy Corporation, US-based electronics manufacturer Alton International Enterprises and China's computer components producer Lenovo Group, are choosing the country as their destination in the first months of this year.
However, to better the policy, Nguyen Van Toan, vice chairman of the Vietnam Association of Foreign Invested Enterprises, said the government should continue to improve business and investment transparency and safeguard intellectual property rights because investors from developed countries, including the US, often demand a transparent and consistent investment and legal environment.
Besides, Toan also urged the government to focus on training to make the country more attractive to foreign high-tech investors as skills of the country's workforce still remain not highly qualified.
Hanoitimes