Investors are seen keeping a cautious approach this week, due to low liquidity and the upcoming long holidays, according to analysts.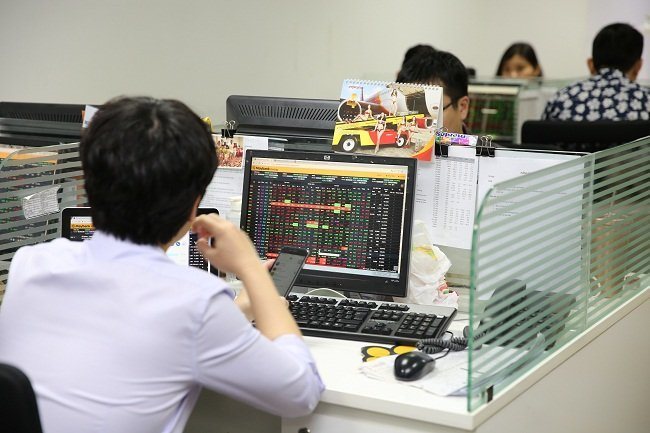 Staff at Maybank Kim Eng Securities follow stock quotations. Shares rose for the first time on Friday last week, driven by the recovery of heavyweight stocks, but liquidity hit a four-month low amid investor caution
Vu Minh Duc, head of the research and analysis department at Viet Capital Securities (VCSC), told Dau Tu Chung Khoan newspaper that the liquidity of the local market is still in decline.
He forecast that the VN-Index of the Hochiminh Stock Exchange would decrease at the strong resistance level of 950 points.
However, "this is the season of shareholders meetings and first-quarter earnings results' release among listed companies. Therefore, the differentiation can occur depending on how the market absorbs information," he said.
Meanwhile, Phan Dung Khanh, investment director of Maybank Kim Eng Securities, also predicted in the newspaper that given the forthcoming holidays on the occasion of the Reunification Day (April 30) and the International Labor Day (May 1), market movements may be more positive instead of currently continuous declines for around one month.
Sharing the same view as Duc of VCSC, Khanh said that liquidity is not expected to change in a positive way since investors will be more cautious when the resistance zone of 1,000 points is unlikely to be surpassed for a long time.
"The market is expected to decrease in the short run. Upward sessions if any are forecast to be only technical rebounds," Tran Xuan Bach, a stock analyst at Bao Viet Securities wrote in a daily report.
Bach added the VN30's investment funds this week would conduct portfolio reviews for the first quarter of this year. As a result, blue chips in the VN30 basket might see unexpected volatility.
"Investors could become even more cautious and hold off on investing, especially when the long holiday is coming," he said.
The benchmark VN-Index closed up last Friday in its first gain following four consecutive falling sessions. With 183 stocks advancing and 123 others falling, the index edged up 3.91 points from a day earlier at 966.21. For the week, it finished down 1.7%.
Brewer SAB was the top contributor to the increase as it bounced back from its 6.4% fall on Thursday to close at 4.1%. Utilities tickers had a down day as electricity firm POW, thermal power plant PPC, gas-fired power plant NT2 and power firm VPD decreased.
On the Hanoi Stock Exchange, the HNX-Index inched up 0.12% to end the day at 105.88 points. The northern market index decreased 1.7% after four trading days last week. SGT