The United States' desire to facilitate private investment into Southeast Asia's infrastructure projects will be a boon for the region, and Vietnam has an opportunity for a piece of the pie.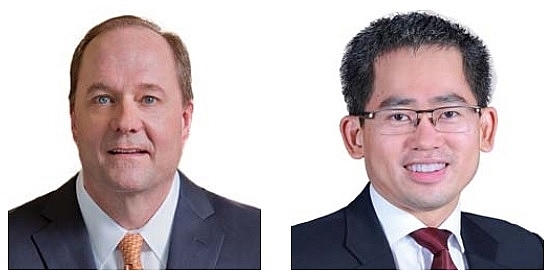 Patrick Burke CEO, HSBC US and Pham Hong Hai CEO, HSBC Vietnam
A memorandum of understanding between Singapore and the United States, signed in early April, will see the two countries' infrastructure agencies work together to facilitate private sector deals across the region in areas such as energy, water, transportation, and urban development. It follows other US announcements of infrastructure financing for the Indo-Pacific region, including its July 2018 trilateral agreement with Australia and Japan.
The commercial opportunities for the region and Vietnam, in particular, will be significant and wide-ranging.
The ASEAN is the fourth-largest export market of the US. Trade with the ASEAN supports more than half a million American jobs, and nearly 4,700 American companies in the region. Southeast Asia is the top destination for US foreign direct investment in Asia.
Moving forward, the ASEAN presents the US with a low-cost production option, a growing consumer base, and strong trade and investment ties. Vietnam – with a GDP growth of 6.6 per cent for 2019, according to the World Bank – represents one of the strongest opportunities.
But the ASEAN is not without challenges. To illustrate the point: for all the recent speculation of a new wave of supply chain diversion to Southeast Asia, the region has yet to see capital investments shift in any meaningful way.
This is because foreign companies, US companies included, are hesitant to commit to investment unless they are confident that production orders will be met and remain stable, and that Southeast Asia improves its production, technology, and efficiency.
Underpinning all of this is a need to aid the region's infrastructure. Southeast Asia's infrastructure gaps and funding constraints are well-known and probably best summarised by the Asian Development Bank's (ADB) estimate that developing Asia needs $27 trillion of investment over the next 10 years. The ADB said the public sector will only be able to cover less than half of the costs.
Vietnam is among the biggest infrastructure spenders in Asia in 2017, according to the ADB. Public and private sector infrastructure investment has averaged 5.7 per cent of GDP in recent years, the highest in Southeast Asia. But the infrastructure investment gap remains. The government estimates that the country would need around $48 billion for 2016-2020 to develop infrastructure. Meanwhile, the country's energy needs will increase 2.5 times between 2015 and 2035, likewise bringing huge requirements in investment.
The US is not alone in wanting the ASEAN to improve its infrastructure in order to make it a viable production option. China, Europe, and Japan have similar infrastructure programmes in place with the region.
To its credit, the Vietnamese government announced during its recent economic forum that it will be actively seeking private investment for its infrastructure projects.
However, a lot more is needed if the ASEAN is going to come anywhere close to bridging its infrastructure gap.
Vietnam should be well-positioned to receive investment. The country enjoys a combination of strong economic growth, a young and sizeable consumer base, a stable currency, and contained inflation. Its improved business and investment environment has attracted strong inflows of foreign direct investment which totalled $19.1 billion in 2018. That is up 9 per cent compared to a year earlier, and the sixth annual record in a row.
But Vietnam cannot rest on its laurels and instead needs to continuously offer value to attract investment from the US and beyond. One way it can do this is by providing a ready-made framework for selecting viable and bankable projects.
Here, Infrastructure Asia – a new infrastructure-focussed body set up to assist in facilitating regionally-based expertise with regional project requirements – has the potential to add real value.
The alternate channel is through the ASEAN Smart Cities Network (ASCN). Launched in 2018, the ASCN was developed in response to the likely infrastructure strains that will occur from the ­expected 90 million people ­migrating to the ASEAN's urban areas between now and 2030.
The ACSN is a platform for each of the region's countries to share smart city best-practice, link member cities with private investment, and secure funding from multilateral funding ­institutions, including China's Asian Infrastructure Investment Bank. It makes sense for the US to channel investment ­activity through this construct.
This is a good start, but the pilot is limited to 26 cities across Southeast Asia including Danang, Hanoi, and Ho Chi Minh City. A way Vietnam can further innovate will be to offer more projects across its satellite cities as well as widen the focus beyond 'smart' projects to sustainable infrastructure development projects generally.
These are just three examples, there are many other areas in infrastructure development where Vietnam can take a leadership role across the region, including the development of local currency capital markets, the mobilisation of US institutional funding into infrastructure, and the development of green financing procurement and markets.
Vietnam and the US have had a strong and growing relationship over the past few decades and the way to ­galvanise it is to get behind a common cause. The sustainable development of its infrastructure, and the role of both ­countries within it, can be just that. Forming this partnership is a strong start but the litmus test will ultimately be based on the projects it brings to life. This is where the hard work begins and to succeed Vietnam will need to keep the project finance ­opportunities going.
Patrick Burke CEO, HSBC US and Pham Hong Hai CEO, HSBC Vietnam
VIR