The Civil Aviation Authority of Vietnam (CAAV) has completed its appraisal and evaluation of Thien Minh Aviation JSC's proposal to set up a new airline, called Kite Air.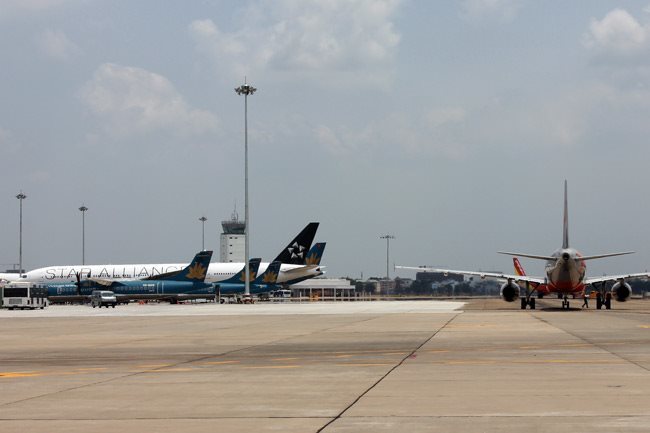 Aircraft are parked at Tan Son Nhat International Airport. Kite Air will incur a loss of VND350 billion for the first three years of operation
CAAV said that the airline will incur a loss of VND350 billion for the first three years of operation
The loss will likely reduce its equity, preventing the carrier from meeting requirements on the minimum capital level regulated by the aviation law.
This loss is considered normal in the investment process.
However, based on its appraisal, CAAV advised the airline to limit its fleet to 20-25 units until 2025. Besides this, the authority told Kite Air to evaluate the efficiency of the ATR 72 aircraft.
In Vietnam, the ATR 72 aircraft are only being used by VASCO, a subsidiary of Vietnam Airlines. The carrier is gradually replacing them with new generation narrow-body aircraft to boost the efficiency of its operations.
Kite Air is expected to launch its maiden flight in 2020, using 30 aircraft until 2025, including ATR 72s and A320/A321s or similar aircraft.
The firm planned to invest in six ATR 72 turbo-prop aircraft during its first year of operations and then expand the fleet in the following years until 2024.
The projected carrier will mainly operate on domestic routes from Central Vietnam to south-central Vietnam and in the southern region instead of launching flights between Hanoi City, HCMC and Danang City.
The airline will focus on flights from HCMC to Con Dao and from Hanoi City to Dien Bien, Vinh and Quang Nam. Each week, scores of flights will be launched in the local market.
Kite Air is set to locate its hub at Chu Lai Airport in Quang Nam Province's Nui Thanh District.
After the appraisal process, the authority asked the carrier to clarify some inappropriate points in its proposal related to parking sites.
Earlier, when evaluating Bamboo Airways' fleet expansion plan, the authority warned that it would be challenging for the carrier's operations if the airline chose 44 parking slots at 15 airports and selected 16 airports for overnight aircraft parking. SGT
Lan Nhi