Although strong solutions exist, the biggest Vietnamese drugmakers reported poor performance in the first three quarters of 2019, putting their future targets at risk.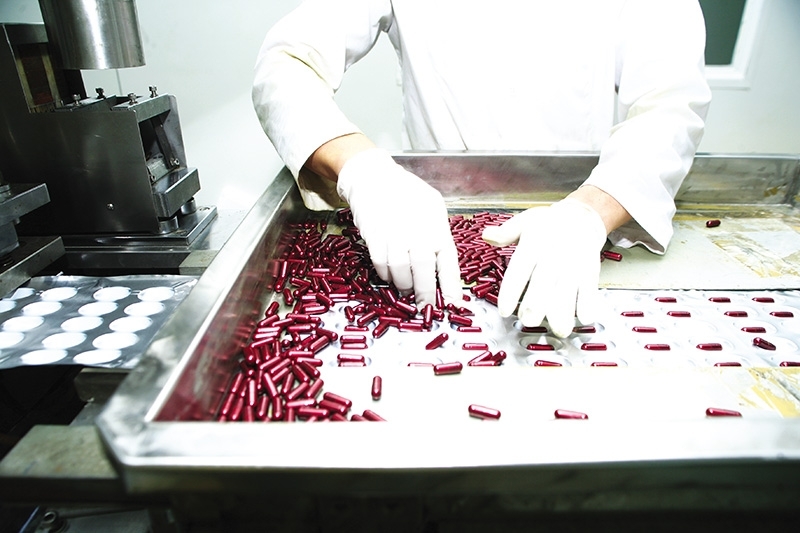 Vietnamese pharmaceuticals are reaching for higher technology and quality standards to dispel the weak performance of the past year

Late last month Traphaco JSC, the second-biggest publicly-traded drugmaker in Vietnam, organised an unusual shareholder meeting to adjust its business targets for the year amid the latest challenges in the market.
Stakeholders agreed to reduce consolidated revenue for this year to VND1.85 trillion ($80.4 million) from the earlier planned VND2.16 trillion ($93.9 million), and consolidated after-tax profit to VND170 billion ($7.4 million) from VND205 billion ($8.9 million).
"Although the Vietnamese pharmaceutical market remains lucrative, it is not easy for domestic pharmaceutical companies to grow right now, as multinational corporations (MNCs) and new domestic rivals also expand rapidly across the country," an industry insider said.
Hard time
As the first three quarters of the year came and went, few pharmaceutical firms in Vietnam made their business results public, with experts blaming the move on the tepid outcomes.
Traphaco continued to face a slide in profits and revenue during the nine-month period. The group has the State Capital Investment Corporation, Magbi Fund Ltd., and Super Delta Pte., Ltd. as major shareholders, holding 35.67, 24.99, and 15.12 per cent, respectively.
The drugmaker began operations at the new factory located in the northern province of Hung Yen in late 2017, making big steps into the western medicine market and pinning high hopes on bright future prospects. Tran Tuc Ma, general director of the firm, said at the opening ceremony that the modern facility had a capacity of 1.2 billion product units a year, with few workers and triple the capacity.
Despite the high expectations, Traphaco's business results have been lower than expected. Net revenue in 2018 hit VND1.81 trillion ($78.7 million), down 3.8 per cent on-year, while after-tax profit dropped 32.7 per cent to VND175 billion ($7.6 million). In the first half of 2019, consolidated revenue and consolidated after-tax profit met just 37 and 36 per cent of the targets, respectively.
In addition to this, the performance in the over-the-counter (OTC) channel, which makes up 92 per cent of the company's revenue, is growing at a low rate. The sluggish issuance of the circular guiding drug tenders is another attributor to the result, meaning the new factory has not benefited from this segment.
At DHG Pharmaceutical JSC (DHG), the biggest publicly traded drugmaker in the country, and Domesco Medical Import Export JSC (Domesco), Vietnam's third-largest, the situation is similar.
DHG, in which Taisho Pharmaceutical Holdings is the biggest foreign shareholder with over 50 per cent, did not report a much brighter outcome, with on-year slips in consolidated net revenue and in consolidated pre-tax profit.
The group blamed the losses on the suspension of sales of MSD and Eugica products from 2018, leading to a dent in distribution revenue of the products. This was due to the business scrapping the foreign ownership limit (FOL) to allow Taisho to increase its stake, thus being deprived of the profitable distribution rights of other brands.
As ruled in Vietnam, if a drugmaker scraps the FOL, it is recognised as a foreign-invested firm, meaning that it is not allowed to distribute drugs of other brands.
The biggest drugmaker has even decided to reduce its annual growth targets in 2018-2020 to 13 per cent in revenue and 7 per cent in profit. DHG's previous annual revenue growth target was 15 per cent.
In this period, Imexpharm (IMP) is an exception to the downtrend. Last week, it announced total after-tax profit of VND110.45 billion ($4.8 million), up 11.25 per cent on-year, and total net revenue of VND886.38 billion ($16.79 million), up nearly 10 per cent on-year.
At present, Vinapharm, one of Vietnam's leading pharmaceutical companies, holds a 22.87 per cent in IMP, while international investors own 48.13 per cent.
ETC drugs – smart solution?
Vietnamese pharmaceutical firms are focusing on the ethical/prescription drugs channel (ETC) to shore up growth by investing in the research of new drugs and in upgrading manufacturing facilities to EU-GMP/PIC/S-GMP standards.
According to a recent survey of pharmaceutical firms in Vietnam announced by Vietnam Report, 83 per cent of those surveyed ranked the research of new drugs as the first strategy in 2018.
"The trend will enable pharma firms to venture further into the profitable ETC segment, which is currently dominated by MNCs, to cash in on the favourable conditions created in the Law on Pharmacy 2016," said an analyst at BIDV Securities.
Recent moves by Traphaco, Domesco, DHG, and IMP have reinforced the trend. Traphaco poured nearly VND500 billion ($21.7 million) into the new western factory, aiming to venture further into the ETC market. Thus, it would become the number one drug producer in Vietnam by 2020, with market capitalisation of VND10 trillion ($434.7 million), revenue of VND4 trillion ($173.9 million), and a distribution network of 40 branches nationwide by 2020.
Traphaco has also kicked off a technology transfer project with South Korean partner Daewoong for its strategic products at the new factory to shorten the R&D process, along with manufacturing.
Similarly, Domesco launched a costly new drug factory in the southern province of Dong Thap in 2016. The plant meets European standards and is focused on research and production of medicines for cancer treatment.
Now the drugmaker is completing all necessary procedures for the franchising initiative of products from its major foreign shareholder Abbott Laboratories (51.7 per cent stake). As planned, franchised products will contribute to Domesco's revenue by next year.
Like Traphaco and Domesco, IMP is working to upgrade its plants to EU-GMP standards, thus allowing it to further venture into the ETC segment. IMP is now operating three plants, including one put into operation in the last quarter, and is now developing a further facility with its opening scheduled for next year. IMP's new factories focus on manufacturing western medicines meeting the standards set out by the EU-GMP certification.
DHG is also targeting the ETC segment and exports in its long-term development. In April, DHG announced two assembly lines meeting both PIC/S-GMP and JAPAN-GMP standards.
This is expected to help the firm leapfrog its way into the ETC and exports in the future.
Industry insiders, however, said that their targets may be challenging because MNCs have also been expanding local production to cash in on growing local demands, and to benefit from the Comprehensive and Progressive Agreement for Trans-Pacific Partnership, as well as the EU-Vietnam Free Trade Agreement. Elsewhere, many other MNCs are also seeking a license to directly import drugs to Vietnam.
Swiss-based Novartis recently announced that it received a certificate of eligibility for the pharmacy business from the Ministry of Health (MoH) for direct import, making it the second group to do so after Sanofi.
"Most MNCs in Vietnam are now applying for such a license to directly import drugs to Vietnam. GlaxoSmithKline and others may be in the queue," said an MoH official.
As MNCs often eye tenders of Group 1 brand-name drugs, their moves are expected to heat up competition in the ETC segment, which currently accounts for around 70 per cent of the local pharma market, while the remainder of the market revolves around the OTC, or non-description drugs.
Overseas players hold the majority of the ETC market due to the ownership of brand-name drugs, which operate in a monopolistic manner and sell at high prices. VIR
Bich Thuy

He is the first San Chay ethnic to gain great scientific achievements in herbal medicine development. He conducts research every day and goes to mountains to exploit the 'golden mines of herbs'.