Vietnamese businesses should prepare to export their products to other ASEAN countries ahead of the possible signing of the Regional Comprehensive Economic Partnership (RCEP) this week.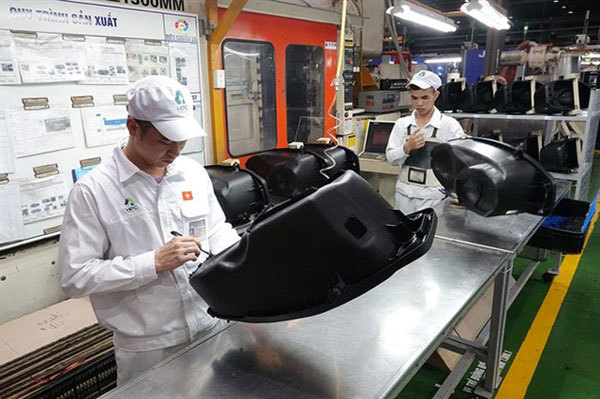 RCEP will open more opportunities for Vietnamese enterprises to expand their markets, boost exports, and participate in new value chains in the region, increase foreign investment attraction. — Photo thanhnien.vn
Luong Hoang Thai, director of the Multilateral Trade Department under the Ministry of Industry and Trade (MoIT), said RCEP, scheduled to be signed on November 15, would open up many new opportunities for ASEAN's businesses as the world's largest free trade deal.
"Some countries in ASEAN have similar structures in many industries and production, so local businesses need to pay attention to trade policies, apply more innovation and invest more in trade and services to contribute to increasing the local competitive advantage," he said. 
More attention needed
According to a representative of the MoIT, ASEAN was the first step in integration for Vietnam to enter the world economy. After 25 years in the organisation, Vietnam from a slow-growing economy, with a per capita income of less than US$300 has now joined the group of developing countries with per capita income of $3,000.
Many experts consider the ASEAN market not as difficult as other developed markets in the US, EU or Northeast Asia, adding ASEAN countries could import a variety of commodity groups that Vietnamese businesses could produce.
Vietnam and ASEAN countries implemented the ASEAN Trade in Goods Agreement (ATIGA) in 2010, which carries tariff cuts. Compared to other agreements, the tax cuts in the ATIGA were the highest and fastest with more than 98.6 per cent of taxes cut. With nearly 650 million people and a total GDP of more than $3.111 trillion and average growth of 4.7 per cent per year, ASEAN is considered a particularly important market of Vietnam and is the first market for local products before entering the world market.
According to the statistics from the MoIT, Vietnam still imported more from ASEAN than it exported to the bloc in the last few years. In 2019, the total export turnover of Vietnamese enterprises to ASEAN reached nearly $25 billion, up 1.3 per cent compared to 2018 and 30 per cent compared to 2016.
Key export commodity groups of Vietnam to ASEAN markets including phones and components; computers, electronic products and components; textile products the main imports included machinery and equipment; petroleum; computers, electronic products and components.
Thailand and Indonesia recently have become Vietnam's largest auto import markets, surpassing traditional markets such as the US, Germany, Japan and the Republic of Korea (RoK).
Currently, ASEAN markets are Vietnam's fourth-most important industrial trading partner, after China, the US and the RoK. Most Vietnamese businesses have not yet increased export volume to the region.
As the RCEP looks set to reduce or eliminate tariffs on industrial and agricultural goods and set regulations on data transmission in the region, Thai from the Multilateral Trade Department told local businesses to learn the trade policies, technology and innovation, regulations of trade and services to take advantage.
Nguyen Phuc Nam, deputy director of Asia - Africa Market Department, MoIT noted: "To best use the tariff opportunities and increase the volume of exports to the intra-bloc from RCEP, local goods must ensure to meet all export rules such as a certificate of origin and other relating procedures."
Nam said as goods would be considered to be of ASEAN origin if they were produced entirely in ASEAN or met the specific rules of origin requirements of the region, it was time for Vietnamese businesses to grasp the regulations on standards and quality, upgrade production lines and invest in the preserving, packaging and designing of their products.
Nam also advised local businesses to solve arising problems and promptly notify authorities and businesses in their export process. They should also stay updated on consumption trends, participate in trade promotion activities and seek reputable local distributors in the region.
Minister of Industry and Trade Tran Tuan Anh said: "As ASEAN Chair this year, Vietnam has a responsibility to lead and co-operate with partner countries to recover and promote the economic development of the whole region from the impact of the COVID-19 pandemic."
Anh said Vietnam would work with other ASEAN countries to adjust co-operation programmes in the region in line with the new situation. They would also make the midterm review of the implementation of the Master Plan on ASEAN Connectivity up to 2025.
Under the ASEAN agenda, leaders of Asia-Pacific countries participating in RCEP will attend the 4th RCEP Summit on November 15 as a teleconference to discuss reaching a long-awaited agreement of RCEP later this year.
RCEP will open more opportunities for Vietnamese enterprises to expand their markets, boost exports, and participate in new value chains in the region, increase foreign investment attraction, said Anh.
"The import tax cut will open up new opportunities for products from prominent sectors such as telecommunications, information technology, textiles, footwear and agriculture," he added.
Together with the 10 members of ASEAN, Japan, China, the RoK, Australia, and New Zealand will be included in RCEP.  VNS

With the Regional Comprehensive Economic Partnership scheduled to be signed this November, doors will soon open to attract more investment and swell Vietnam's trade with international partners.

The Regional Comprehensive Economic Partnership (RCEP) is expected to be signed in November this year.