The board of directors of CMC Corporation has approved the issuance of 25 million shares through a private placement for Samsung SDS, the system integration arm of South Korea's electronics conglomerate Samsung.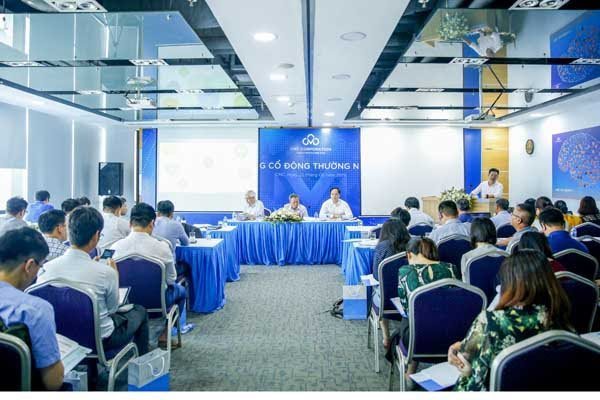 A view of the 2019 annual general meeting of CMC Corporation - PHOTO: CMC CORPORATION
Shareholders of the technology group passed the plan at the 2019 annual general meeting held on June 26. Besides this, they agreed to adjust the number of preference shares offered to employees over the next three years to 3.6 million.
As a member of Samsung Group specializing in IT solutions and logistics, the acquisition is part of Samsung SDS' strategy to expand its business in Vietnam.
Last month, both sides sealed an agreement to cooperate in businesses related to smart factories, cloud computing and cybersecurity, before expanding to other fields such as blockchain and Big Data.
With the cooperation deal, CMC Corporation expects to earn US$1 billion in revenue and employ 10,000 staff by 2023.
Last year, the group reported consolidated revenue of more than VND5.1 trillion, rising 6% versus the previous year and meeting 92% of the entire year's plan. Its pretax profit reached VND261.8 billion, up 20% against 2017, while the number of staff was over 2,800.
For the 2019 fiscal year (from April 1, 2019, to March 31, 2020), CMC aims to earn VND6.4 trillion in revenue and VND304.9 billion in pretax profit. It is now the sole provider of all international telecom channels for Samsung in Vietnam.
Earlier in June 2018, CMC and Samsung SDS signed a strategic cooperation deal to deploy manufacturing execution system solutions among over 200 suppliers of Samsung in the country.
In November 2018, during a trip by a CMC delegation to South Korea, Samsung suggested deepening the collaboration in its two potential segments---Samsung SDS, with turnover reaching US$8.2 billion in 2017, and a telecom service with revenue of US$2.2 billion.
Following the plan approved at the meeting, CMC will pay a 2018 cash dividend for shareholders at 15% and issue bonus shares at a ratio of 4.088%.
Founded in 1993, CMC is one of Vietnam's largest IT services companies, focusing on three segments: technology and solutions, global business and telecommunications.
In 2018, CMC strengthened its investment in technology infrastructure with key projects such as CMC Creative Space at Tan Thuan Export Processing Zone in HCMC's District 7. The project, with total investment of VND1.5 trillion, is slated for completion in September 2020. SGT
Le Hoang

Samsung repeatedly affirmed that Vietnam is its largest global strategic base not only for production but also for research and development.  

While some economists warned of the possibility of Vietnam lagging further behind regional countries, others believe that Vietnam will still perform well.