Vietnam's GDP growth looks set to slow over the next couple of years, but the country is likely to remain one of the region's best performing economies, according to Capital Economics.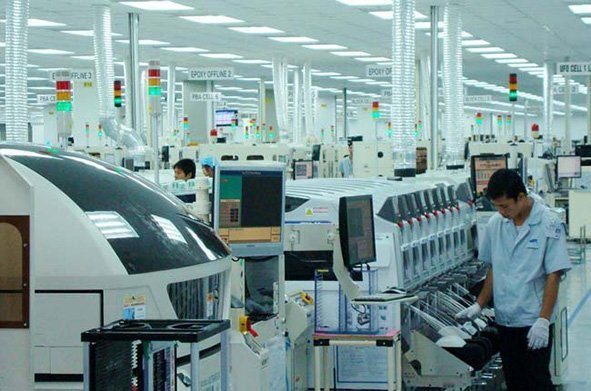 An employee works at an electronics complex owned by South Korea's tech giant Samsung in northern Vietnam. Capital Economics forecast that slower export demand and tighter fiscal policy will weigh on economic growth in Vietnam
Capital Economics said in its recent Emerging Asia Economic Outlook report that over the long term, the integration of Vietnam's export sector into Chinese supply chains suggests that exports should continue to outperform those from the rest of Asia.
Vietnam's low wages mean it is well-placed to gain market share as low-end manufacturing continues to leave China in search of cheaper locations, according to the firm.
Vietnam could also benefit if an intensification of the trade war leads to the further relocation of manufacturing capacity from China to Vietnam.
The firm stressed that for Asia's poorest economies, the key to achieving faster productivity growth is in developing a competitive manufacturing sector. The country best placed to perform strongly over the coming decades is Vietnam. Improvements to its business environment, political stability and low wages all bode well for the future.
However, the country's near-term prospects are less positive. A key drag will come from the export sector. Weaker global demand and a downturn in the technology sector have contributed to a slowdown in export growth over the past few months and are likely to weigh on exports over the next couple of quarters.
Meanwhile, credit growth has started to slow. On the plus side, weaker credit demand is needed to reduce risks in the financial sector and put the economy on a more sustainable footing. But in the near term, a slowdown in credit growth will drag on consumption and investment growth.
Fiscal policy is also likely to become less supportive. Vietnam has one of the highest levels of public debt and the largest budget deficit in the region. The firm noted that tighter policies are needed to reduce debt to more sustainable levels.
Putting all this together, Capital Economics forecast that the country's GDP growth will slow from 7.1% last year to 6% in 2019 and 2020. The consensus is for growth of some 6.5% over the next couple of years.
Founded in 1999, Capital Economics has become one of the leading independent economic research companies in the world. Its large team of more than 60 experienced economists provides award-winning macroeconomic, financial market and sectoral analyses, forecasts and consultancy from its offices in London, New York, Toronto, Sydney and Singapore.