Loss-making, low-profitability State-owned agriculture firms should be dissolved and made bankrupt, said Deputy Prime Minister Vuong Dinh Hue on August 21.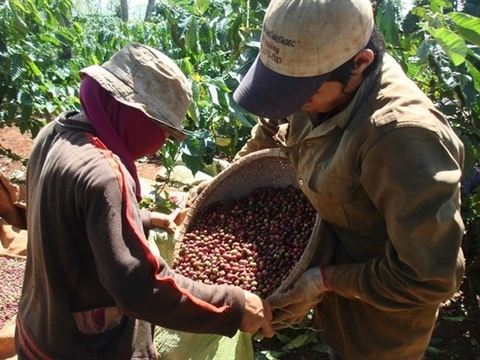 Coffee is harvested by the Vietnam National Coffee Corporation Ltd's employees. The State-owned coffee producer has 20 members that have not completed their restructuring plans. — Photo cafef.vn
Special regulations are needed for those loss-making, low-profitability firms to stop operating, he told a meeting on the restructuring of agriculture and forestry businesses.
He asked the Ministry of Agriculture and Rural Development (MARD) to hasten and complete re-arranging State-owned firms by 2020 to improve their performance and efficiency.
Hue appreciated the efforts of the ministry, its agencies and State-owned agriculture firms for having striven to improve their performances in recent years.
He urged the companies to continue improving the quality of corporate governance, financial capability and production capacity.
In addition, enterprises should integrate technologies in their production, create more jobs and increase labour incomes, he said, adding firms must work together to develop a production chain.
He said policies need to be corrected to support agriculture and forestry companies in the remote and disadvantage areas, especially in land use issues, he added.
The ministry and companies must assure State capital is well-managed and the benefits and rights of employees are guaranteed.
According to Deputy Minister of Agriculture and Rural Development Ha Cong Tuan, the Prime Minister in 2014 approved the restructuring plan that targets 256 companies.
Of the total, 102 limited liability companies will be turned into joint stock firms, 28 companies will be dissolved and 81 companies will remain State-funded.
After five years, 160 companies have completed restructuring. Of the total, 49 companies have turned joint-stock.
Local authorities have reported that as of June 30, 2019, 27 companies or 10.5 per cent of the total had not finished their restructuring plans, including 13 companies not equitised.
Firms that were slow in restructuring were mostly members of the Vietnam National Coffee Corporation Limited (20 firms) while others were under the management of five cities and provinces such as Ha Noi, HCM City and Nam Dinh.
Major problems for the companies when implementing the plan included land use and taxation, which took them a long time to complete procedures required.
In addition, slow process in approving the firms' land use plans and in certifying plans made them unable to get access to capital lending.
In some areas, illegal land lease issues were not resolved. Meanwhile, local authorities had not resolved land use issues between local people and companies. — VNS