The chair of Viet Capital Securities has received zero dong, and the CEO has refused a bonus worth an apartment, buy they still earn money through shares they hold.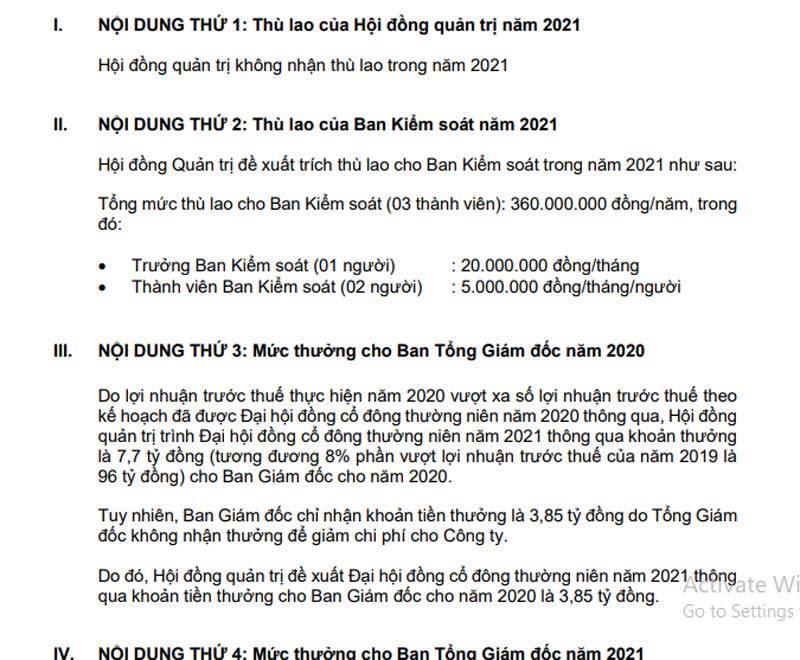 The document about the pay to the board of directors
The board of management of Viet Capital Securities JSC (VCSC) has made public the statement to the 2021 annual shareholders' meeting with a series of issues related to pay and bonuses.
Members of the board of management, including Nguyen Thi Thanh Phuong, president; To Hai, member, Nguyen Bao Hoang, member; and four others once again stated they won't receive salaries in 2021.
The board of directors has approved a bonus of VND7.7 billion for the board of directors. However, the board of directors only received VND3.85 billion as To Hai, CEO, refused the bonus to reduce the company's operation cost.
Though refusing the pay and bonus as member of the board of directors, Hai still receives huge money from the Vietnam's leading securities company.
Also in the document which has been released, VCSC states it plans to pay a dividend of 15 percent, or VND1,500 per share, to shareholders. With more than 37.7 million VCI shares he his holding, Hai would pocket VND56.6 billion.
As the VCI share price has increased by 3.5 times in the last eight months, Hai's stock assets have increased by VND1.6 trillion to VND2.4 trillion.
In July 2020, Hai spent VND145 billion to buy 6 million VCI shares at VND24,000 per share. Meanwhile, VCI is now traded at VND65,000. The investment deal alone has brought the profit of VND246 billion to Hai.
Investors said many businessmen are refusing wages and bonuses.
Masan President Nguyen Dang Quang and the group's board of management have not received wages for the last nine years, though Masan's leadership is operating a big apparatus with revenue in 2021 expected to increase by 20-30 percent to VND100 trillion.
The group plans to budget no more than VND5 billion for the operation of the board of management, including dependent committees in 2021.
In previous years, many businesses applied the 'zero dong wage' policy for their board of management and board of supervision, such as FPTS, Phu Hung Securities and SBS. And SHB, Eximbank, Nam Kim Steel and QCG cut wages of managers when the companies faced difficulties.
In 2020, a stormy period for many businesses because of Covid-19, many of them did not lay off workers but cut managers' wages.
At Vietjet, the wage for the board of directors was cut by 25 percent. A 20 percent cut was applied for deputy directors and 10 percent cut for heads of divisions.
FLC Group of billionaire Trinh Van Quyet has many times approved low wages for president, deputy presidents and members of the board of management - several million dong for each. 
V. Ha

Many commercial banks now pay trillions of dong worth of dividends to shareholders and have completed restructuring after a decade of difficulties. As a result, their share prices are expected to rise.

A 1,000 minimum trading lot will limit the participation of small investors, while the stock market is moving towards fairness and equality.