Although Vietnam's stock market has experienced five consecutive weeks of gains with record-high liquidity, analysts said investors' caution and the uptrend would weaken as the VN-Index approaches the resistance level of 1,030 points.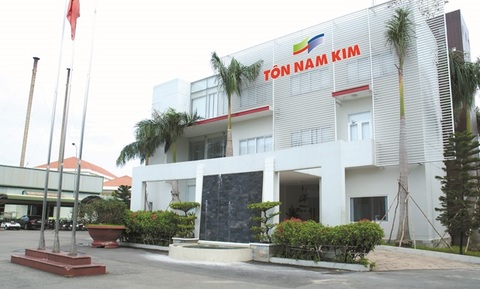 Headquarters of Nam Kim Group (NKG). Nam Kim Group (NKG) rose 7 per cent last week. — Photo cafef.vn
The benchmark VN-Index on the Ho Chi Minh Stock Exchange (HoSE) was up 0.17 per cent to close Friday at 1,021.49 points.
The index gained 1.12 per cent last week.
An average of 574.6 million shares were traded on the southern exchange during each session last week, worth VND11.6 trillion (US$499.7 million).
Analysts from SSI Securities Corporation (SSI) said the market's upturn momentum was weakening with the VN-Index approaching the resistance level of 1,030 points.
"The inflow of capital from large-cap stocks to mid-cap stocks may be a warning sign of increasing risk. However, in the short term, it is likely that the VN-Index will continue going up, targeting the zone of 1,030 - 1,040 points," SSI said.
According to MB Securities Co (MBS), selling pressure mainly focused on blue-chips but domestic cash flow absorbed this selling volume well.
"MBS believes the market is likely to fluctuate when the VN-Index approaches 1,030 points," MBS said.
Saigon-Hanoi Securities Joint Stock Company (SHS) said the market had a fifth consecutive gaining week with a slight increase in trading volume compared to the previous week, which showed some caution.
"The VN-Index closed last week in a strong resistance zone of 1,020-1,030 points, which were the peak of October 2018 and of November 2019, thus profit-taking pressure will become stronger this week, which means a correction may happen soon," SHS said.
Foreign investors net sold 19.3 million shares, equivalent to a net selling value of VND36.8 billion on the whole market last week. Notably on HoSE, foreign investors net sold VND75 billion, down 71 per cent from the previous week.
Construction materials stocks rose the most last week, mainly thanks to Hoa Phat Group (HPG), increasing 1.9 per cent, and Nam Kim Group (NKG) jumping 7 per cent.
It was followed by the community utility group, typically PetroVietnam Gas JSC (GAS), rising by 2.4 per cent and PVPower (POW), increasing by 12.7 per cent.
Consumer goods ranked third with Masan Group (MSN) growing 2.7 per cent, Sabeco (SAB) 5.5 per cent and Hanoi Beer Alcohol And Beverage Joint Stock Corporation (BHN) up 4.4 per cent.
Securities stocks also increased strongly with SSI Securities Incorporation (SSI) gaining 3.6 per cent, VNDirect Securities Co (VND) rising 2.7 per cent, Viet Capital Incorporation (VCI) growing 2.2 per cent and Saigon-Hanoi Securities Co (SHS) up 2.1 per cent.
SHS forecasts that this week, the VN-Index may correct again with profit-taking pressure appearing in the resistance zone of 1,020-1,030 points.
SHS recommends investors with a high proportion of stocks lock in profits at the resistance zone of 1,020-1,030 points. Investors with a high proportion of cash can watch for adjustments around the 990-1,000 point range to bottom fish.
According to Tran Xuan Bach, a stock analyst at Bao Viet Securities Co, the VN-Index is heading toward the strong resistance zone 1,028-1,035 points.
"However, we assess that this resistance may pose correction and volatility pressure to the index. Adversely, resistance 985-990 points will be a determinant to the index's uptrend in the short term," he said.
"The market will continually experience a wide divergence among stock sectors. Capital starts to flow into stock sectors that have yet to rise significantly to seek for profit," he said.
"Stock exposure should be maintained at 50 per cent. Investors should hold off on opening new longing positions as the market is approaching sensitive resistance zones. Investors with high stock exposure may consider lowering the exposure with short-term positions when the index approaches 1,028-1,035 points," he said.
On the Ha Noi Stock Exchange, the HNX-Index rose 0.33 per cent to close Friday at 152.48 points.
The northern index had gained 2.91 per cent last week.
Some 71.9 million shares were traded on the northern exchange last week, worth VND1 trillion.
According to data from the Securities Depository Center (VSD), domestic individual investors opened a record 41,080 trading accounts in November, up 4,734 compared to October. Since early this year, individual investors have opened a total of 329,452 accounts, 75.4 per cent higher than the number of accounts opened in 2019.
The number of accounts opened by domestic institutional investors rose from October, reaching 123, the highest since December 2017. So far this year, domestic institutional investors have opened nearly 964 accounts, higher than that of 2019 of 821 accounts.
Generally, the number of new accounts opened by domestic investors in November reached 41,203 accounts, up 13 per cent compared to October. So far this year, domestic investors have opened more than 2.67 million trading accounts. — VNS