The Vietnam Directorate of Market Surveillance is investigating sites suspected of selling fake, counterfeit and imitation products in HCMC and has already seized over 1,830 items at Ben Thanh Market and Saigon Square Shopping Center.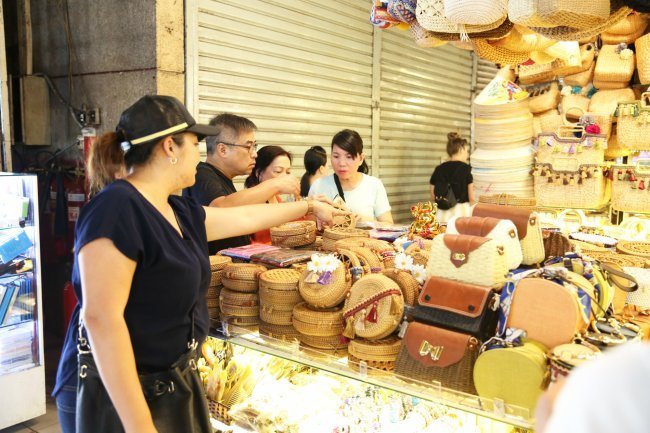 Tourists shopping at Ben Thanh Market. The Vietnam Directorate of Market Surveillance under the Ministry of Industry and Trade has seized over 1,830 fake items at Ben Thanh Market and Saigon Square Shopping Center
The confiscated items, including handbags, wallets, purses, belts, watches, footwear, clothes and hats, were found bearing counterfeit labels for Longchamp, Under Armour, Rolex, Bulgari, Chopard, Patek Philippe, Hermes, Franck Muller, Audermars Piguet, Montblanc, MCM, Burberry and Chanel, Mot The Gioi news site reported, citing the ministry, on July 17.
On checking products at the two sites, authorities discovered the seized items, worth VND256.4 million, did not have invoices, associated paperwork or clear origins.
Ben Thanh Market and Saigon Square are two of the city's most popular shopping destinations for the youth and international tourists.
The Vietnam Directorate of Market Surveillance had earlier inspected two major shopping centers in Mong Cai City in the northern province of Quang Ninh and seized fake goods worth tens of billions of Vietnamese dong.
In early July, Ninh Hiep Market in Hanoi City faced the same fate, where the market surveillance agency confiscated some 3,000 counterfeit Hublot, Dior and Gucci watches, glasses and clothes.
The campaign was aimed at clamping down on the sale of fake and low-quality products in the country. SGT

Some 1,000 people have been duped into depositing their money in fake property projects, which are being widely advertised in districts 9, Binh Tan and Hoc Mon, said a council member in HCMC.  

VN Directorate of Market Surveillance and French luxury goods conglomerate Moet Hennessy – Louis Vuitton has inked a memorandum of understanding on cooperation in fighting counterfeits and violations of intellectual property rights.  

Deputy Minister of Science and Technology Tran Van Tung, speaks to Hải Quan (Customs) Online about how to differentiate genuine goods from fake products.