Masan MEATLife Joint Stock Company, a subsidiary of Masan Group, will list its shares on the Unlisted Public Company Market on December 9 at a reference price of VND 80,000 (US$4.46).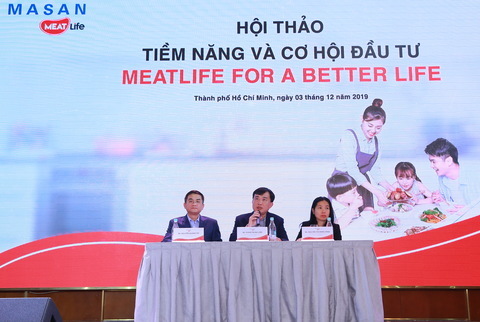 Leaders of Masan MEATLife answer questions from investors at the Potentials and Investment Opportunity in Masan MEATLife Stocks seminar in HCM City on December 3 ahead of the companys listing on the UPCoM stock market on December 9.
Speaking at the Potentials and Investment Opportunity in Masan MEATLife Stocks seminar in HCM City on December 3, company executives also spoke about its development strategy after its business model changed from agricultural products to branded animal protein value chain.
Pham Trung Lam, MML CEO, said according to the World Bank, Viet Nam is the worlds second largest pork consumer.
Pork output is expected to grow at 20 per cent annually in 2019-25, he said.
"Pork is the largest food and beverage segment in Viet Nam with a market of over US$10 billion, 2.5 times the size of dairy. But a majority of the meat has no brand and is of unclear origin.
"We think this is a great opportunity to expand our scale to provide consumers with high-quality pork products at reasonable prices."
Masan MEATLife introduced the certified chilled meat brand MEATDeli at the end of last year using European processing technologies and standards.
The products have been well received by consumers.
The number of its chilled meat points of sale has shot up from 44 in Ha Noi in January to 550 now in Ha Noi and HCM City. The company targets having over 5,000 points of sales by 2022.
MeatDeli is expected to deliver VND500 billion - VND1 trillion (US$28.7 million - $57.4 million) in revenues in 2019, and $1-2 billion by 2022, contributing 50-70 per cent of Masan MeatLifes revenues by then as consumers convert from unbranded meat products to branded, safe, traceable, hygienic, and affordable meat products, he said.
In 2022 MML is expected to achieve an earnings before interest, tax, depreciation and amortization (EBITDA) margin of 18-22 per cent and net profit of $200 – 450 million on revenues of $1.9-2.9 billion, including $0.9 billion from its BioZeem animal feed business.
It has set itself a target of becoming the largest supplier of branded packaged meat in Viet Nam in the next five years and hold 10 per cent of the pork market share.
Lam said that MML's chilled pork products are made in a closed process from breeding to processing. "We have two steps of quarantine before and after taking pigs to the plant for slaughtering, and the last step is to check as soon as the meat has been processed."
MML owns a 200ha high-tech pig farm in Nghe An, capable of supplying the market 250,000 pigs a year. It also buys pigs from trustworthy partners to ensure stable supply.
Its meat processing complex in Ha Nam can process 1.4 million pigs or 140,000 tonnes of pork a year with BRC Global Standard for Food Safety certification by the British Retailer Consortium.
MML plans to open a second chilled meat processing complex in Long An province in the fourth quarter of 2020.
The company said the UPCoM listing for Masan MeatLife, apart from promoting greater transparency for shareholders, would also be a strategic step towards the meat businesss initial public offering on the southern bourse in 2022-23.
The listing plan is consistent with Masan Groups strategy to list all its main subsidiaries on local stock exchanges by 2022-23 to bring maximum value to shareholders.
The seminar attracted hundreds of retail and institutional investors. — VNS

Vietnamese conglomerate Vingroup said on December 3 it has entered into a share swap agreement to merge its retail and agriculture arms with Masan Consumer Holdings, to create the country's biggest retail company.