The Military Commercial Joint Stock Bank (MB Bank) is seeking a potential investor to sell an additional 211.35 million shares in a private deal.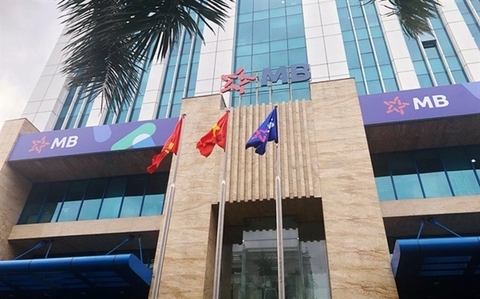 Flags fly outside MB Bank's head office in Ha Noi. The bank is seeking to sell more than 211 million shares in a private deal. — Photo cafef.vn
The share sale was approved by shareholders at the bank's annual meeting held in late April 2019.
MB Bank is listing more than 2.37 billion shares on the Ho Chi Minh Stock Exchange (HoSE) with code MBB.
Of the total, more than 2.34 billion shares are outstanding. The bank shares dropped nearly 1 per cent to end Wednesday morning at VND20,600 (US$0.89) per share.
At this price level, the private share issuance is worth VND4.35 trillion ($187.5 million).
The share issuance filing has been submitted to the State Securities Commission (SSC) and MB Bank has to make a final report on the deal within 10 days from the issuance date.
MB Bank has also raised the foreign capital limit in its capital to 22.99 per cent from more than 20.90 per cent.
At the 2019 annual shareholder meeting, the bank's shareholders approved a plan to issue a total of 258.4 million shares in private deals.
Of the total, 211.35 million new shares will be issued and the bank will offload 47 million treasury shares to potential investors.
The shares are restricted from trading in accordance with the deals between the bank and buyers.
In the period between December 30, 2019 and January 29, 2020, MB Bank sold 21.4 million of the 47 million treasury shares to eight foreign investment funds.
In early February 2020, the State Bank of Vietnam (SBV) approved MB Bank to increase its charter capital to more than VND24.4 trillion from VND23.73 trillion.
The private-equity lender earned a total of VND10.03 trillion in pre-tax profit in 2019, up 29.2 per cent year on year.
At the end of last year, the bank had a total of nearly VND411.5 trillion worth of assets, up 13.6 per cent on-year.
Total lending increased by 16.6 per cent on-year in 2019 to VND250.3 trillion and total savings rose 13.6 per cent on-year to VND272.7 trillion. — VNS

On February 7, the banking sector's outstanding loans fell by 0.38 per cent for the year, while overdue debts and non-performing loans showed signs of rising.

Most banks made fat profits in 2019 and some of them had profit of over tens of trillion of dong. But their profits mostly came from lending.