With a series of billion-dollar foreign-invested projects in the pipeline, Vietnam is expected to attain a new record in foreign direct investment attraction this year.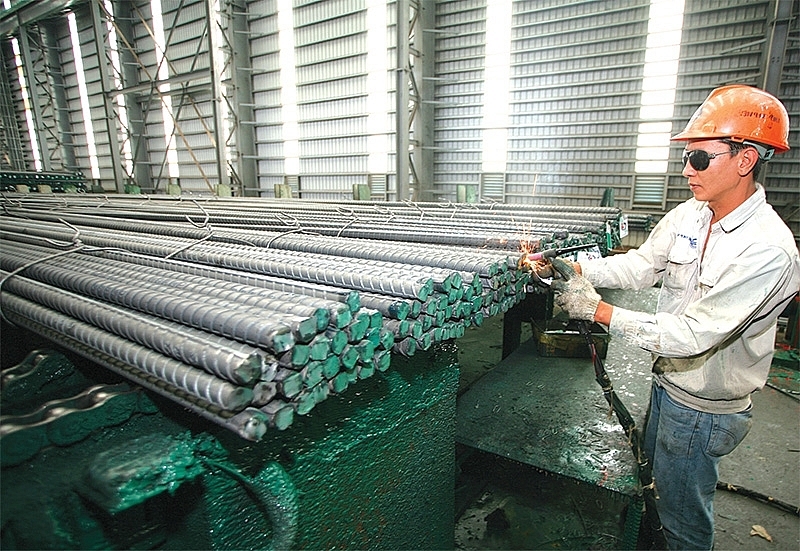 Local manufacturers are fully capable of processing scrap into export goods
According to the southern province of Binh Duong's Department of Planning and Investment, a textile and garment project from Hong Kong's Wai Chi Kai Knitting Company will soon be licensed, and could be the first billion-dollar project of 2019.
Located in Dong An 2 Industrial Park, the Weijia Textiles Vina venture aims to benefit from huge export opportunities given by the Comprehensive and Progressive Agreement for Trans-Pacific Partnership (CPTPP).
Other potential billion-dollar projects include the $4.3 billion US-backed Energy Capital-invested gas-to-power project in the southern province of Bac Lieu, and the long-awaited $4.6 billion ExxonMobil initiative in the central province of Quang Nam.
Up to now, the Bac Lieu People's Committee has been urging the Ministry of Industry and Trade to fast-track the appraisal process in order to add the gas-to-power project to Vietnam's Power Development Master Plan VII, finish funding procedures, and then grant an investment certificate to the foreign investor.
In addition to these three mammoth projects, other major plans are finalising procedures to be licensed this year. They include the $500 million project of South Korean-invested Hana Micron, which in mid-April signed a co-operation agreement with the Bac Giang Industrial Zones Management Authority in the northern province of Bac Giang to develop a hi-tech and semiconductor device factory.
Apparel Far Eastern is seeking to increase an additional $610 million in its existing production, while Meiko Electronics is to add $200 million to Vietnam-based facility. Elsewhere, CP Foods of Thai billionaire Dhanin Chearavanont, is planning to invest $200 million in a pork and domestic fowls centre in Vietnam.
If these huge projects are licensed this year, it is possible that Vietnam can break the 2018 figure of $35.46 billion of newly-licensed projects, added foreign direct investment (FDI), and stake acquisitions. In the first four months of 2019 the figure reached $14.59 billion, up 81 per cent on-year and reaching a four-year record high. The investments have been said to take advantage of the CPTPP and to ease risks from the ongoing US-China trade tensions.
LG Electronics has announced that it will halt smartphone production in South Korea, putting the future of the second-tier smartphone brand in question amid a shrinking market share and heated competition from Chinese companies. It plans to move its high-end smartphone production from a plant in Pyeongtaek, on the outskirts of Seoul, to a factory in Vietnam's northern city of Haiphong. With the move, LG is developing its Vietnamese operations into a global production hub in a similar fashion to electronics giant Samsung.
Similarly, leading Taiwanese computer maker Compal Group plans to expand its production capacity in Vietnam to raise the group's exports to $1.5-2 billion per year, according to Ray Chen, the group's vice president.
Nguyen Mai, chairman of the Vietnam Association of Foreign-Invested Enterprises, said, "In 2014, Vietnam could not compete with China in FDI attraction, but now it can. China's changing investment policies have caused foreign investors to exit the country and seek other destinations, including Vietnam and Indonesia."
According to an APEC survey released recently by global tax and legal services firm PwC, Vietnam tops the targets for cross-border investment among the APEC's 21 member economies, with net 46 per cent planning to increase funding over the next 12 months alone.
"With major trade deals like the CPTPP, the EU-Vietnam and the ASEAN-Hong Kong free trade agreements on the horizon, Vietnam has the potential to attract even more investment and generate new cross-border business opportunities," said Dinh Thi Quynh Van, general director of PwC Vietnam.
Christopher Malone, managing director at Boston Consulting Group, said that Vietnam made great achievements in FDI attraction over recent years. "However, to compete in FDI attraction in the future, there are two things that are absolutely critical. The first is the focus on increasing the country's innovation capacity, and the second is the need for specialisation," he said. VIR